Wednesday, September 07, 2005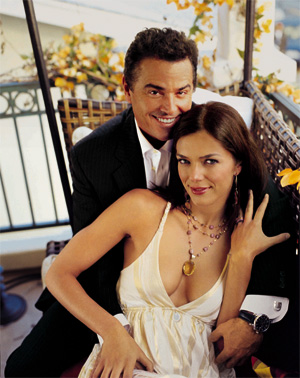 We are still waiting if there will be a Bob Denver tribute event on TV Land. If we don't hear anything by tomorrow, I'd say the answer is no. So keep checking back here often to see if there is an update. As of now, GSN is the only network doing one.
Today we have a lot of little television news to tell you. You might have heard some or all of these, but I feel they are noteworthy. Sitcom stars Todd Bridges (
Diff'rent Strokes
) and Dave Couiler (
Full House
) will be skating this fall on FOX on the reality show Skating with Celebrities. Read the press release
here
. This year's
Emmy Awards
, which are airing on Sunday, September 18 on CBS, will have stars of television sing classic television themes. I guess they watched the
TV Land Awards
and liked that idea. The stars include
Kristen Bell (

Veronica Mars

) singing the theme for

Fame

,
William Shatner (

Boston Legal

) and opera mezzo von Stade will sing the

Star Trek

theme,
Megan Mullally (

Will & Grace

) and Donald Trump (

The Apprentice

) with the

Green Acres

tune
,
and Gary Dourdan (

CSI: Crime Scene Investigation

) and R&B artist Macy Gray will sing the popular

The Jeffersons

theme.


And VH1 will relive two 1970's sitcom stars for two new shows. Christopher Knight (Peter from

The Brady Bunch

) and Danny Bonaduce (

The Partridge Family

) will headline their own shows. Knight will star in

My Fair Brady

, premiering Sunday at 9:30 p.m. Bonaduce will star in

Breaking Bonaduce

premiering Sunday at 10:30 p.m.

In

Brady

, Lovebirds Christopher Knight and Adrianne Curry first met on VH1's The Surreal Life 4. Now, a year later the two are living together and the twice married Chris is having commitment issues. Adrianne, on the other hand, is ready to start a family and gives Chris and ultimatum...either step up or I'm moving out. And in Bonaduce,
America remembers Danny Bonaduce as the cute but spunky Danny Partridge in the 1970's classic series

The Partridge

Family

. Since then however, this former child star has lived a life filled with dichotomy as the hard partying "bad guy" while also trying to remain a loving family man.
Posted by

Pavan -- SitcomsOnline.com
at 7:59 PM


---
New on DVD/Blu-ray (September)
09/06 - Coach - Season One (Mill Creek) / Season Two / Seasons One and Two
09/06 - South Park - The Complete Ninteenth Season (Blu-ray)
09/13 - The Big Bang Theory - The Complete Ninth Season (Blu-ray)
09/13 - Newhart - The Complete Sixth Season
09/20 - 2 Broke Girls - The Complete Fifth Season
09/20 - Family Matters - The Complete Eighth Season
09/20 - Modern Family - The Complete Season 7
09/20 - Veep - Season 5
09/27 - The Wonder Years - Season Six
More TV DVD Releases / DVD Reviews Archive / SitcomsOnline Digest
---
Sitcoms Airing Tonight
Sunday, September 25
Family Guy - "A Lot Going on Upstairs" (Fox, 7:00PM ET/PT) (Repeat)
When Stewie refuses to sleep in his own bed because of nightmares, Peter can't stand it, so he goes to sleep in the attic. Peter turns the attic into a man cave and all of the guys begin hanging out there, which makes Lois incredibly angry. Meanwhile, Brian helps Stewie overcome his fears by building a device to go into his nightmares and defeat his demons.
Bob's Burgers - "Flu-oise" (Fox, 7:30PM ET/PT)
When the youngest Belcher comes down with an epic case of the flu, Linda has a mishap as she tries to deliver Louise's favorite toy to her daughter's bedside. After Louise vows that she will never forgive her family for their mistake, she falls into a wild fever dream filled with familiar faces, zany musical numbers and a crazy adventure.
The Simpsons - "Monty Burns' Fleeing Circus" (Fox, 8:00PM ET/PT)
When Springfield is burned to the ground, the Simpsons beg Mr. Burns to fund its rebuilding. Burns agrees – with one condition: he gets to put on a variety show at the Springfield Bowl.
Son of Zorn - "Defender of Teen Love" (Fox, 8:30PM ET/PT)
After embarrassing Alan in front of his crush, Nancy, Zorn uses the Stone of Sight to spy on the girl for his son. Meanwhile, Edie is determined to move on and forces Zorn to finally move his old boxes out of her garage and into his own apartment.
Family Guy - "The Boy in the Band" (Fox, 9:00PM ET/PT)
Stewie and Brian form a children's band that quickly rises to fame until they let a girl get between them and drive the band apart. Meanwhile, Peter and Lois insist that Chris gets a job so he takes a job managing Quagmire's sex life as his personal assistant.
The Last Man on Earth - "General Breast Theme with Cobras" (Fox, 9:30PM ET/PT)
The safety of Tandy and the group is in jeopardy as armed intruders storm the Malibu beach near their home, and no one can agree on what to do. While Melissa takes drastic action, Tandy gets a new lesson in fashion.
K.C. Undercover - "In Too Deep 2" (Disney Channel, 8:00PM ET/PT)
The Volunteens give K.C. an assignment that pits her against Craig and his job of protecting the ambassador.
Bizaardvark - "Pretty-Con" (Disney Channel, 8:30PM ET/PT)
The annual beauty convention Pretty-Con comes to Vuuugle and Amelia obsesses with beating out a beauty guru for the Golden Powder Puff Award; Paige and Frankie agree to help so they can meet the host and debut their music video.
---
Sitcom Stars on Talk Shows (Week of September 26)
Sunday, September 25

Mark Consuelos (Hope & Faith) - Catch Mark on Watch What Happens: Live at 11pm on Bravo.
Monday, September 26
Zach Galifianakis (Baskets) - Watch Zach on on Jimmy Kimmel Live! at 11:35pm on ABC.
Rob Lowe (The Grinder/Parks and Recreation) - Rob appears on The Late Show with Stephen Colbert at 11:35pm on CBS. He also talks about Code Black on CBS This Morning sometime between 7-9am and on LIVE! with Kelly, so check your listings. He will be on New York Live on WNBC in New York at 12:30pm ET.
Kal Penn (We Are Men/How I Met Your Mother) - Kal is a guest on The Late Show with Stephen Colbert at 11:35pm on CBS.
Will Forte (The Last Man on Earth) - Will visits Late Night with Seth Meyers at 12:36am on NBC. He will also be on LIVE! with Kelly, so check your listings.
Norm Macdonald (Norm) - Norm stops by The Late Late Show with James Corden at 12:37am on CBS.
Margaret Cho (All-American Girl) - Margaret appears on @midnight on Comedy Central at midnight.
Jaleel White (Family Matters/Grown Ups) - Jaleel is a guest on @midnight on Comedy Central at midnight.
Patton Oswalt (The Goldbergs/The King of Queens) - Patton visits Conan at 11pm on TBS.
Whoopi Goldberg (Whoopi/Bagdad Cafe) - Whoopi drops by Harry, so check your local listings.
Kristin Chenoweth (Kristin) - Kristin performs live on NBC's Today sometime between 7-9am. She also talks about her new album on the AOL Build Show at 3pm.
Sutton Foster (Younger) - Sutton talks about Younger on NBC's Today in the 10am hour.
The Cast of Younger) - Sutton Foster, Debi Mazar, Hilary Duff, Nico Tortorella, Peter Hermann, Miriam Shor and Molly Bernard are guests on the AOL Build Show at 2:15pm.
---