Wednesday, September 07, 2005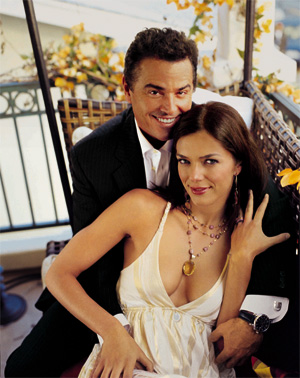 We are still waiting if there will be a Bob Denver tribute event on TV Land. If we don't hear anything by tomorrow, I'd say the answer is no. So keep checking back here often to see if there is an update. As of now, GSN is the only network doing one.
Today we have a lot of little television news to tell you. You might have heard some or all of these, but I feel they are noteworthy. Sitcom stars Todd Bridges (
Diff'rent Strokes
) and Dave Couiler (
Full House
) will be skating this fall on FOX on the reality show Skating with Celebrities. Read the press release
here
. This year's
Emmy Awards
, which are airing on Sunday, September 18 on CBS, will have stars of television sing classic television themes. I guess they watched the
TV Land Awards
and liked that idea. The stars include
Kristen Bell (

Veronica Mars

) singing the theme for

Fame

,
William Shatner (

Boston Legal

) and opera mezzo von Stade will sing the

Star Trek

theme,
Megan Mullally (

Will & Grace

) and Donald Trump (

The Apprentice

) with the

Green Acres

tune
,
and Gary Dourdan (

CSI: Crime Scene Investigation

) and R&B artist Macy Gray will sing the popular

The Jeffersons

theme.


And VH1 will relive two 1970's sitcom stars for two new shows. Christopher Knight (Peter from

The Brady Bunch

) and Danny Bonaduce (

The Partridge Family

) will headline their own shows. Knight will star in

My Fair Brady

, premiering Sunday at 9:30 p.m. Bonaduce will star in

Breaking Bonaduce

premiering Sunday at 10:30 p.m.

In

Brady

, Lovebirds Christopher Knight and Adrianne Curry first met on VH1's The Surreal Life 4. Now, a year later the two are living together and the twice married Chris is having commitment issues. Adrianne, on the other hand, is ready to start a family and gives Chris and ultimatum...either step up or I'm moving out. And in Bonaduce,
America remembers Danny Bonaduce as the cute but spunky Danny Partridge in the 1970's classic series

The Partridge

Family

. Since then however, this former child star has lived a life filled with dichotomy as the hard partying "bad guy" while also trying to remain a loving family man.
Posted by

Pavan -- SitcomsOnline.com
at 7:59 PM


---
New on DVD/Blu-ray (August)
08/04 - The Comeback - The Complete Series
08/04 - I Love Lucy - Ultimate Season 2 (Blu-ray)
08/04 - Sgt. Bilko (The Phil Silvers Show) - Season Three
08/11 - The Jeffersons - Season Eight
08/11 - Maude - The Complete Second Season
08/11 - 2 Broke Girls - The Complete Fourth Season
08/11 - The Jeff Foxworthy Show - The COmplete Series (Mill Creek)
08/18 - Mike & Molly - The Complete Fifth Season
08/18 - Welcome Back, Kotter - The Final (Fourth) Season
08/25 - King of the Hill - The Complete 11th Season
08/25 - The Mindy Project - Season Three
More TV DVD Releases / DVD Reviews Archive / SitcomsOnline Digest
---
Sitcoms Airing Tonight
Sunday, August 30

Bob's Burgers - "The Gayle Tales" (Fox, 7:00PM ET/PT) (Repeat)
Linda's sister, Gayle (guest voice Megan Mullally), arrives at Bob's Burgers in tears because her date for the evening was cancelled and she had theater tickets!!! Desperate to get out of the house after being grounded, the kids compete to be Aunt Gayle's "date" for the evening via an essay contest.
Bob's Burgers - "L'il Dad" (Fox, 7:30PM ET/PT) (Repeat)
Bob becomes obsessed with his new automatic helicopter, but when it falls apart for no reason, he enters into a battle with the manufacturer in order to receive a refund. Gene assists Bob in his quest, but things quickly get out of hand and end in a crazy helicopter battle. Meanwhile, Louise and Linda help Tina prepare for her oral book report.
The Simpsons - "Bull-E" (Fox, 8:00PM ET/PT) (Repeat)
After Bart gets bullied at the school dance, Marge convinces the town to pass anti-bullying legislation. Homer then gets arrested and sent to rehab for bullying Ned Flanders, only to subsequently leave rehab as a hero.
Brooklyn Nine-Nine - "Det. Dave Majors" (Fox, 8:30PM ET/PT) (Repeat)
Jake is excited to work a case with the best detective in the NYPD, Detective Majors (guest star Garret Dillahunt), until Majors shares his intentions to ask Amy out on a date. Meanwhile, Charles and Gina try to convince Terry to stay at the Nine-Nine when he considers accepting an offer to work at a private security firm.
Family Guy - "This Little Piggy" (Fox, 9:00PM ET/PT) (Repeat)
Meg is thrilled to be recruited as a model, but it turns out to be for a very specific type of modeling: the foot-fetish industry. Meanwhile, Brian accompanies Stewie on an open-road adventure when Stewie decides he wants to experience life outside of preschool.
The Last Man on Earth - "Moved to Tampa" (Fox, 9:30PM ET/PT) (Repeat)
Now a single man, Phil discovers there are other fish in the tiny, tiny sea of Tucson survivors.

The Carmichael Show - "Pilot" (NBC, 8:00PM ET/PT) (Repeat)
When Jerrod (Jerrod Carmichael) decides to move in with his girlfriend, Maxine (Amber Stevens West), he is incredibly hesitant to tell his opinionated parents, Cynthia (Loretta Devine) and Joe (David Alan Grier). While Maxine feels they both need to be open and honest, Jerrod and his brother, Bobby (Lil Rel Howery) are well aware that this is a recipe for disaster...
The Carmichael Show - "Protest" (NBC, 8:30PM ET/PT) (Repeat)
A protest breaks out in the community, causing divisions in the family over social activism and complicating Jerrod's birthday celebration.
---
Sitcom Stars on Talk Shows (Week of August 31) (All times ET unless noted)
Monday, August 31

Victoria Justice (Victorious/Zoey 101) - Watch Victoria on The Tonight Show Starring Jimmy Fallon at 11:34pm on NBC.
Roseanne Barr (Roseanne) - Roseanne stops by Jimmy Kimmel Live! at 11:35pm on ABC.
Demi Lovato (Sonny with a Chance) - Demi is a panelist and musical guest on Jimmy Kimmel Live! at 11:35pm on ABC.
Melora Hardin (Transparent/Wedding Band/The Office) - Melora is a guest on a repeat of The Late Late Show with James Corden at 12:37am on CBS.
Amy Landecker (Transparent) - Amy will be on a repeat of The Late Late Show with James Corden at 12:37am on CBS.
Abby Elliott (Odd Mom Out) - Abby appears on a repeat of Watch What Happens: Live at 11pm on Bravo.
Tim Conway (McHale's Navy/Rango) - Tim is a guest on a repeat of The Queen Latifah Show, so check your local listings.
Cedric the Entertainer (The Soul Man/The Steve Harvey Show) and Niecy Nash (The Soul Man/Getting On/Reno 911!) - Cedric and Niecy are guests on a repeat of The Talk on CBS at 2pm ET/1pm CT-PT.
Jeremy Sisto (Suburgatory) and David Walton (About a Boy/Bent/Perfect Couples) - Jeremy and David talk about their new film Break Point on NBC's Today in the 9am hour, on HuffPost Live at 3:00pm, on the AOL Build Show, on SI Now and on New York Live on WNBC in New York at 12:30pm ET.
---