Wednesday, September 07, 2005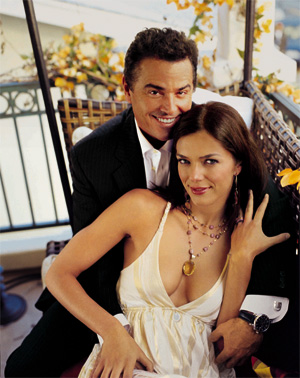 We are still waiting if there will be a Bob Denver tribute event on TV Land. If we don't hear anything by tomorrow, I'd say the answer is no. So keep checking back here often to see if there is an update. As of now, GSN is the only network doing one.
Today we have a lot of little television news to tell you. You might have heard some or all of these, but I feel they are noteworthy. Sitcom stars Todd Bridges (
Diff'rent Strokes
) and Dave Couiler (
Full House
) will be skating this fall on FOX on the reality show Skating with Celebrities. Read the press release
here
. This year's
Emmy Awards
, which are airing on Sunday, September 18 on CBS, will have stars of television sing classic television themes. I guess they watched the
TV Land Awards
and liked that idea. The stars include
Kristen Bell (

Veronica Mars

) singing the theme for

Fame

,
William Shatner (

Boston Legal

) and opera mezzo von Stade will sing the

Star Trek

theme,
Megan Mullally (

Will & Grace

) and Donald Trump (

The Apprentice

) with the

Green Acres

tune
,
and Gary Dourdan (

CSI: Crime Scene Investigation

) and R&B artist Macy Gray will sing the popular

The Jeffersons

theme.


And VH1 will relive two 1970's sitcom stars for two new shows. Christopher Knight (Peter from

The Brady Bunch

) and Danny Bonaduce (

The Partridge Family

) will headline their own shows. Knight will star in

My Fair Brady

, premiering Sunday at 9:30 p.m. Bonaduce will star in

Breaking Bonaduce

premiering Sunday at 10:30 p.m.

In

Brady

, Lovebirds Christopher Knight and Adrianne Curry first met on VH1's The Surreal Life 4. Now, a year later the two are living together and the twice married Chris is having commitment issues. Adrianne, on the other hand, is ready to start a family and gives Chris and ultimatum...either step up or I'm moving out. And in Bonaduce,
America remembers Danny Bonaduce as the cute but spunky Danny Partridge in the 1970's classic series

The Partridge

Family

. Since then however, this former child star has lived a life filled with dichotomy as the hard partying "bad guy" while also trying to remain a loving family man.
Posted by

Pavan -- SitcomsOnline.com
at 7:59 PM


---
New on DVD/Blu-ray (September)
09/06 - Coach - Season One (Mill Creek) / Season Two / Seasons One and Two
09/06 - South Park - The Complete Ninteenth Season (Blu-ray)
09/13 - The Big Bang Theory - The Complete Ninth Season (Blu-ray)
09/13 - Newhart - The Complete Sixth Season
09/20 - 2 Broke Girls - The Complete Fifth Season
09/20 - Family Matters - The Complete Eighth Season
09/20 - Modern Family - The Complete Season 7
09/20 - Veep - Season 5
09/27 - The Wonder Years - Season Six
More TV DVD Releases / DVD Reviews Archive / SitcomsOnline Digest
---
Sitcoms Airing Tonight
Sunday, October 23
The Simpsons - "Treehouse of Horror XXVI" (Fox, 7:00PM ET/PT) (Repeat)
In an encore of last season's Halloween episode, Sideshow Bob finally kills Bart, only to reanimate him; Homer wakes up with short-term memory loss; and Lisa, Bart, and Milhouse get super powers from radiation.
Bob's Burgers - "Teen-a-Witch" (Fox, 7:30PM ET/PT)
With Halloween quickly approaching, Tina reveals her brilliant idea that will finally win her first place in the annual costume contest. When Tammy steals her idea, Tina is forced to seek the help of Mr. Ambrose, who leads her to alternate and other-worldly methods of winning. Meanwhile, Bob is on a mission to figure out who is stealing his perfectly crafted pumpkins.
The Simpsons - "Trust But Clarify" (Fox, 8:00PM ET/PT)
Lisa and Bart investigate Krusty's suspicious new "Krustaceans" candy. Meanwhile, Homer wants a promotion at the nuclear plant and asks Marge to help him dress the part, and news anchor Kent Brockman struggles to find his feet in the changing media world.
Son of Zorn - "A Taste of Zephyria" (Fox, 8:30PM ET/PT)
After learning how Zephyria is depicted in the media, Zorn attempts to teach Alan about his culture. Meanwhile, Edie wages war with her new neighbors over their talking garden gnome.
Family Guy - "Inside Family Guy" (Fox, 9:00PM ET/PT)
FAMILY GUY takes viewers behind the scenes of a regular "FAMILY GUY" production week, with James Woods as the guide. See the ins-and-outs of what goes into the making of a "FAMILY GUY" episode and watch the drama unfold as Peter is replaced and ends up in the office of Fox Television Group Chairmen and CEOs Dana Walden and Gary Newman to pitch his very own new series.
The Last Man on Earth - "Five Hoda Kotbs" (Fox, 9:30PM ET/PT)
A post-apocalyptic road trip has everyone at war with each other and Gail is really pushed to her breaking point.
Bizaardvark - "Spoiler Alert: Belissa Returns" (Disney Channel, 8:30PM ET/PT)
When Paige and Frankie hit a writing slump and other bad things start happening to them, Paige begins to think they are cursed; Amelia and Dirk are at odds when the lifestyle Diva declutters the Dare Lair.
---
Sitcom Stars on Talk Shows (Week of October 24)
Sunday, October 23

Patti LaBelle (Out All Night) - Catch Patti on Watch What Happens: Live at 11pm on Bravo.
Monday, October 24
Ricky Gervais (The Office) - Watch Ricky on The Tonight Show Starring Jimmy Fallon at 11:34pm on NBC.
Tom Hanks (Bosom Buddies) - Tom appears on The Late Show with Stephen Colbert at 11:35pm on CBS. He also talks about Inferno on NBC's Today sometime between 7-9am and on LIVE! with Kelly, so check your listings.
Elijah Wood (Wilfred) - Elijah is a guest on Late Night with Seth Meyers at 12:36am on NBC.
Ana Gasteyer (People of Earth/Lady Dynamite/Suburgatory) - Ana visits Late Night with Seth Meyers at 12:36am on NBC.
Nick Offerman (Parks and Recreation) - Nick stops by The Late Late Show with James Corden at 12:37am on CBS.
Ron Howard (Happy Days/The Andy Griffith Show) - Ron appears on The Late Late Show with James Corden at 12:37am on CBS.
Zooey Deschanel (New Girl) - Zooey is a guest on The Ellen DeGeneres Show, so check your local listings.
Michael Chiklis (Daddio) - Michael drops by Harry, so check your local listings.
Jameela Jamil (The Good Place) - Jameela appears on Home & Family on Hallmark Channel at 10am ET/PT.
Aya Cash (You're the Worst) - Aya talks about You're the Worst on the AOL Build ShoW at 2pm. She will also be on New York Live on WNBC in New York at 12:30pm ET.
Will Forte (The Last Man on Earth) - Will is a guest on ABC's Good Morning America sometime between 7-9am.
Mary Steenburgen (The Last Man on Earth/Ink) - Mary talks about The Last Man on Earth on NBC's Today in the 10am hour. She will also be on the AOL Build Show at 12:30pm.
Anna Camp (The Mindy Project) - Anna talks about Good Girls Revolt on People Now at 8:30am.
James Brolin (Life in Pieces) - James is a guest on Access Hollywood Live, so check your local listings.
---