Wednesday, September 07, 2005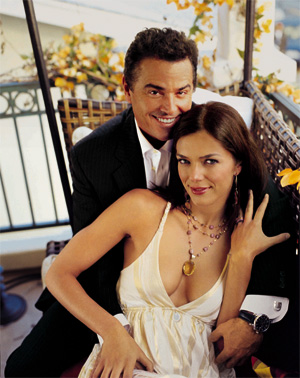 We are still waiting if there will be a Bob Denver tribute event on TV Land. If we don't hear anything by tomorrow, I'd say the answer is no. So keep checking back here often to see if there is an update. As of now, GSN is the only network doing one.
Today we have a lot of little television news to tell you. You might have heard some or all of these, but I feel they are noteworthy. Sitcom stars Todd Bridges (
Diff'rent Strokes
) and Dave Couiler (
Full House
) will be skating this fall on FOX on the reality show Skating with Celebrities. Read the press release
here
. This year's
Emmy Awards
, which are airing on Sunday, September 18 on CBS, will have stars of television sing classic television themes. I guess they watched the
TV Land Awards
and liked that idea. The stars include
Kristen Bell (

Veronica Mars

) singing the theme for

Fame

,
William Shatner (

Boston Legal

) and opera mezzo von Stade will sing the

Star Trek

theme,
Megan Mullally (

Will & Grace

) and Donald Trump (

The Apprentice

) with the

Green Acres

tune
,
and Gary Dourdan (

CSI: Crime Scene Investigation

) and R&B artist Macy Gray will sing the popular

The Jeffersons

theme.


And VH1 will relive two 1970's sitcom stars for two new shows. Christopher Knight (Peter from

The Brady Bunch

) and Danny Bonaduce (

The Partridge Family

) will headline their own shows. Knight will star in

My Fair Brady

, premiering Sunday at 9:30 p.m. Bonaduce will star in

Breaking Bonaduce

premiering Sunday at 10:30 p.m.

In

Brady

, Lovebirds Christopher Knight and Adrianne Curry first met on VH1's The Surreal Life 4. Now, a year later the two are living together and the twice married Chris is having commitment issues. Adrianne, on the other hand, is ready to start a family and gives Chris and ultimatum...either step up or I'm moving out. And in Bonaduce,
America remembers Danny Bonaduce as the cute but spunky Danny Partridge in the 1970's classic series

The Partridge

Family

. Since then however, this former child star has lived a life filled with dichotomy as the hard partying "bad guy" while also trying to remain a loving family man.
Posted by

Pavan -- SitcomsOnline.com
at 7:59 PM


---
New on DVD/Blu-ray (November)
11/03 - Californication - The Complete Series
11/03 - Getting On - The Complete Second Season (Blu-ray)
11/03 - Hank (1965-66) - The Complete Series
11/03 - I Love Lucy - The Complete Series
11/03 - Men at Work - The Complete Second Season
11/03 - That '70s Show - The Complete Series (Blu-ray)
11/03 - 'Til Death - The Complete Third Season
11/10 - The Dick Van Dyke Show - The Complete Remastered Series (DVD)
11/10 - Maude - The Complete Third Season
11/10 - WKRP in Cincinnati - The Complete Final (Fourth) Season
11/17 - The Comedians - The Complete Series
11/17 - Cristela - The Complete First Season
11/17 - McHale's Navy - The Complete Series
11/17 - Sgt. Bilko (The Phil Silvers Show) - The Fourth Season
11/17 - Weird Loners - The Complete Series
11/24 - George Lopez - The Complete Sixth Seaon
More TV DVD Releases / DVD Reviews Archive / SitcomsOnline Digest
---
Sitcoms Airing Tonight
Tuesday, December 1
The Muppets - "Going, Going, Gonzo" (ABC, 8:00PM ET/PT)
after a show-stopping duet with Miss Piggy on "Up Late with Miss Piggy," Joseph Gordon-Levitt joins Scooter, Pepe and the gang for poker night; The Great Gonzo gears up to perform his dream stunt; and Dave Grohl challenges Animal to a drum-off.
Fresh Off the Boat - "We Done Son" (ABC, 8:30PM ET/PT)
Jessica and Honey's friendship hits a rough patch after an argument about the investment property. Louis's old friend Barry (J.B. Smoove) overstays his welcome. And Eddie starts a part-time job working for DMX.
Grandfathered - "Jimmy & Sons" (Fox, 8:00PM ET/PT)
Jimmy hires Gerald as the new host at his restaurant and gives him a crash course in hospitality. Meanwhile, Vanessa teaches Sara how to take sexy photos for Bruce (guest star Andy Daly), and Annelise encourages Ravi to crack down on the comedy in the kitchen.
The Grinder - "Grinder Rests in Peace" (Fox, 8:30PM ET/PT)
"The Grinder: New Orleans" -- a spinoff of the original hit series, asks Dean to film a scene giving closure to his beloved character, Mitch Grinder. Not surprisingly, Dean struggles with being replaced by his TV brother, Rake (guest star Timothy Olyphant). Meanwhile Stewart, who has also been feeling replaced by his brother in Ethan's eyes, jumps at the opportunity to get Dean back into acting and out of his hair.
Family Time - "Bright Lights, Dusty House" (Bounce TV, 9:00PM ET/PT)
Tony's mother comes over to help out now that Lisa has started a full time job; Donnie convinces tony to shoot an ad for his business.
---
Sitcom Stars on Talk Shows (Week of November 30)
Tuesday, December 1

Seth MacFarlane (Family Guy/American Dad!) - Catch Seth on The Tonight Show Starring Jimmy Fallon at 11:34pm on NBC.
Paul Reiser (Mad About You/The Paul Reiser Show) - Paul appears on a repeat of Late Night with Seth Meyers at 12:36am on NBC.
Krysten Ritter (Don't Trust the B---- in Apartment 23) - Krysten is a guest on The Late Late Show with James Corden at 12:37am on CBS.
Ted Danson (Cheers/Becker) - Ted appears on The Late Late Show with James Corden at 12:37am on CBS.
Oliver Hudson (Rules of Engagement) - Oliver visits Conan at 11pm on TBS.
Michaela Watkins (Trophy Wife) - Michaela is a guest on @midnight on Comedy Central at midnight.
Kunal Nayyar (The Big Bang Theory) - Kunal stops by The Ellen DeGeneres Show, so check your local listings.
Wanda Sykes (The New Adventures of Old Christine/Wanda at Large) - Wanda appears on The Ellen DeGeneres Show, so check your local listings.
Bob Saget (Fuller House/How I Met Your Mother/Full House) - Bob is a guest on The Meredith Vieira Show, so check your local listings.
Wendy Raquel Robinson (The Game/The Steve Harvey Show) - Wendy guest co-hosts The Real, so check your local listings.
Terry Crews (Brooklyn Nine-Nine/Are We There Yet?/Everybody Hates Chris) - Terry join Chrissy Teigen in the kitchen to make breakfast toast cups and crème brûlée on FABLife, so check your local listings.
Kristin Chenoweth (Kristin) - Kristin joins the Chew Crew on ABC's The Chew at 1pm ET/12pm PT/CT.
Mindy Kaling (The Mindy Project/The Office) - Mindy is a guest on The Talk on CBS at 2pm ET/1pm CT-PT.
Candace Cameron Bure (Fuller House/Full House) - Candace appears on People Now.
---