Wednesday, September 07, 2005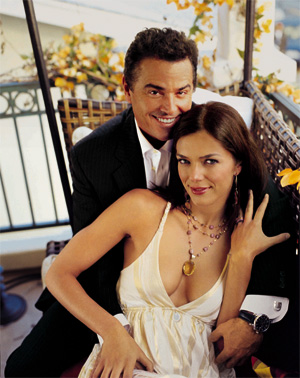 We are still waiting if there will be a Bob Denver tribute event on TV Land. If we don't hear anything by tomorrow, I'd say the answer is no. So keep checking back here often to see if there is an update. As of now, GSN is the only network doing one.
Today we have a lot of little television news to tell you. You might have heard some or all of these, but I feel they are noteworthy. Sitcom stars Todd Bridges (
Diff'rent Strokes
) and Dave Couiler (
Full House
) will be skating this fall on FOX on the reality show Skating with Celebrities. Read the press release
here
. This year's
Emmy Awards
, which are airing on Sunday, September 18 on CBS, will have stars of television sing classic television themes. I guess they watched the
TV Land Awards
and liked that idea. The stars include
Kristen Bell (

Veronica Mars

) singing the theme for

Fame

,
William Shatner (

Boston Legal

) and opera mezzo von Stade will sing the

Star Trek

theme,
Megan Mullally (

Will & Grace

) and Donald Trump (

The Apprentice

) with the

Green Acres

tune
,
and Gary Dourdan (

CSI: Crime Scene Investigation

) and R&B artist Macy Gray will sing the popular

The Jeffersons

theme.


And VH1 will relive two 1970's sitcom stars for two new shows. Christopher Knight (Peter from

The Brady Bunch

) and Danny Bonaduce (

The Partridge Family

) will headline their own shows. Knight will star in

My Fair Brady

, premiering Sunday at 9:30 p.m. Bonaduce will star in

Breaking Bonaduce

premiering Sunday at 10:30 p.m.

In

Brady

, Lovebirds Christopher Knight and Adrianne Curry first met on VH1's The Surreal Life 4. Now, a year later the two are living together and the twice married Chris is having commitment issues. Adrianne, on the other hand, is ready to start a family and gives Chris and ultimatum...either step up or I'm moving out. And in Bonaduce,
America remembers Danny Bonaduce as the cute but spunky Danny Partridge in the 1970's classic series

The Partridge

Family

. Since then however, this former child star has lived a life filled with dichotomy as the hard partying "bad guy" while also trying to remain a loving family man.
Posted by

Pavan -- SitcomsOnline.com
at 7:59 PM


---
New on DVD/Blu-ray (September)
09/01 - The League - The Complete Season Six
09/01 - New Girl - The Complete Fourth Season
09/08 - Brooklyn Nine-Nine - Season Two
09/08 - The Goldbergs - The Complete Second Season
09/08 - Mr. Belvedere - Season Four
09/15 - The Big Bang Theory - The Complete Eighth Season (Blu-ray)
09/15 - Family Guy - Season 13
09/18 - black-ish - The Complete First Season
09/22 - The Cosby Show - The Complete Series (Mill Creek)
09/22 - C.P.O. Sharkey - The Complete Season 2
09/22 - Cristela - The Complete First Season
09/22 - Good Times - The Complete Series (Mill Creek)
09/22 - King of the Hill - The Complete 12th Season
09/22 - The Last Man on Earth - The Complete First Season
09/22 - Modern Family - The Complete Sixth Season
09/22 - The Nanny - Season Four
09/22 - The Partridge Family - The Complete Series (Mill Creek)
09/29 - Fresh Off the Boat - The Complete First Season
09/29 - Mom - The Complete Second Season
More TV DVD Releases / DVD Reviews Archive / SitcomsOnline Digest
---
Sitcoms Airing Tonight
Tuesday, October 6
The Muppets - "Bear Left Then Bear Write" (ABC, 8:00PM ET/PT)
Fozzie takes things a little too far when Kermit offers him advice and Nick Offerman steps in to help the gang. Meanwhile, Christina Applegate guests on "Up Late," and brings Miss Piggy a sweet surprise that doesn't go over well and Pepe, Rizzo and Liam Hemsworth try to help Gonzo out with his online dating situation.
Fresh Off the Boat - "Shaquille O'Neal Motors" (ABC, 8:30PM ET/PT)
It's Louis and Jessica's wedding anniversary and Louis plans a romantic evening out – to the car dealership. Meanwhile, Evan and his "friends" help Eddie buy The Hot Dogger, a hot dog-shaped water slide.
Grandfathered - "Dad Face" (Fox, 8:00PM ET/PT)
While Jimmy struggles to adjust to his newfound family, Gerald surprises him with plans for the family's first trip to the beach, which excites everyone – except Jimmy. When he decides to bail on the outing in favor of a glamorous pool party nearby, he drags Gerald along, leaving Vanessa and Sara with a chance to get to know one another, for better or for worse.
The Grinder - "A Hero Has Fallen" (Fox, 8:30PM ET/PT)
After the exciting and victorious Krantz case, Sanderson & Yao gets flooded with cases. Dean, in his usual fashion, wants them to pick the next big case. Stewart disagrees, but he realizes that telling Dean he can't do something only will make him want to do it more. Soo Stewart decides to encourage Dean and the plan backfires. Meanwhile, Dean inspires Debbie to go for a promotion at work using a "big dog" approach, which puts her job in jeopardy.
---
Sitcom Stars on Talk Shows (Week of October 5) (All times ET unless noted)
Tuesday, October 6

Eric Stonestreet (Modern Family) - Watch Eric on Jimmy Kimmel Live! at 11:35pm on ABC.
Paul Reiser (Mad About You/The Paul Reiser Show) - Paul drops by Late Night with Seth Meyers at 12:36am on NBC.
Chris Parnell (Suburgatory/30 Rock) - Chris visits The Late Late Show with James Corden at 12:37am on CBS.
Max Greenfield (New Girl/Modern Men) - Max is a guest on The Ellen DeGeneres Show, so check your local listings.
Abigail Breslin (Scream Queens) - Abigail appears on NBC's Today sometime between 7-9am, on The Meredith Vieira Show (check your local listings) and on People.com Chatter.
Emeril Lagasse (Emeril) - Emeril joins the Chew Crew on ABC's The Chew at 1pm ET/12pm PT/CT. He can also be heard on The Morning Mash Up on SiriusXM Hits 1 at 9:50am.
Jason Rogel (Kevin from Work) - Jason stops by Home & Family on Hallmark Channel at 10am ET/PT.
Christina Milian (Grandfathered) - Christina talks about Grandfathered on Access Hollywood Live, so check your local listings.
Kel Mitchell (Game Shakers/Kenan & Kel) - Kel shares details of his new sitcom on Access Hollywood Live, so check your local listings.
---