Wednesday, September 07, 2005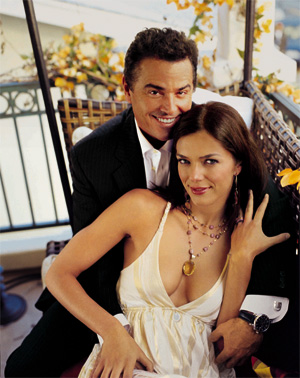 We are still waiting if there will be a Bob Denver tribute event on TV Land. If we don't hear anything by tomorrow, I'd say the answer is no. So keep checking back here often to see if there is an update. As of now, GSN is the only network doing one.
Today we have a lot of little television news to tell you. You might have heard some or all of these, but I feel they are noteworthy. Sitcom stars Todd Bridges (
Diff'rent Strokes
) and Dave Couiler (
Full House
) will be skating this fall on FOX on the reality show Skating with Celebrities. Read the press release
here
. This year's
Emmy Awards
, which are airing on Sunday, September 18 on CBS, will have stars of television sing classic television themes. I guess they watched the
TV Land Awards
and liked that idea. The stars include
Kristen Bell (

Veronica Mars

) singing the theme for

Fame

,
William Shatner (

Boston Legal

) and opera mezzo von Stade will sing the

Star Trek

theme,
Megan Mullally (

Will & Grace

) and Donald Trump (

The Apprentice

) with the

Green Acres

tune
,
and Gary Dourdan (

CSI: Crime Scene Investigation

) and R&B artist Macy Gray will sing the popular

The Jeffersons

theme.


And VH1 will relive two 1970's sitcom stars for two new shows. Christopher Knight (Peter from

The Brady Bunch

) and Danny Bonaduce (

The Partridge Family

) will headline their own shows. Knight will star in

My Fair Brady

, premiering Sunday at 9:30 p.m. Bonaduce will star in

Breaking Bonaduce

premiering Sunday at 10:30 p.m.

In

Brady

, Lovebirds Christopher Knight and Adrianne Curry first met on VH1's The Surreal Life 4. Now, a year later the two are living together and the twice married Chris is having commitment issues. Adrianne, on the other hand, is ready to start a family and gives Chris and ultimatum...either step up or I'm moving out. And in Bonaduce,
America remembers Danny Bonaduce as the cute but spunky Danny Partridge in the 1970's classic series

The Partridge

Family

. Since then however, this former child star has lived a life filled with dichotomy as the hard partying "bad guy" while also trying to remain a loving family man.
Posted by

Pavan -- SitcomsOnline.com
at 7:59 PM


---
New on DVD/Blu-ray (May)
05/03 - Mad About You - The Complete Series
05/03 - The Jim Gaffigan Show - Season One
05/10 - Newhart - The Complete Fifth Season
05/17 - Angie Tribeca - The Complete First Season
05/17 - The Facts of Life - The Final (Ninth) Season
05/24 - The Wonder Years - Season Five
More TV DVD Releases / DVD Reviews Archive / SitcomsOnline Digest
---
Sitcoms Airing Tonight
Thursday, May 5
The Big Bang Theory - "The Line Substitution Solution" (CBS, 8:00PM ET/PT)
Sheldon hires Stuart to spend the day with Amy when he'd rather go to a movie screening. Also, Leonard's mother, Beverly (Christine Baranski), comes to town and Penny struggles to make a connection with her.
The Odd Couple - "An Oscar Named Desire" (CBS, 8:30PM ET/PT)
Oscar and Charlotte hit a speed bump when they hesitate to take their relationship to the next level. Also, Felix attempts to overcome his fear of dogs with Teddy's help when Emily regains custody of Biscuit.
Mom - "Pure Evil and a Free Piece of Cheesecake" (CBS, 9:00PM ET/PT)
When Christy learns she made the Dean's List at school, she is disappointed by Bonnie's lackluster response. Richard Schiff guest stars as Robert, Bonnie's fantasy co-worker.
2 Broke Girls - "And the Ten Inches" (CBS, 9:30PM ET/PT)
When Max and Caroline need more space for their renovated dessert bar, they're willing to do just about anything to convince Angie (Lisa Lampanelli), the brash owner of the pizza place next door, to rent them her back office.
---
Sitcom Stars on Talk Shows (Week of May 2)
Thursday, May 5

Rob Lowe (The Grinder/Parks and Recreation) - Catch Rob on Jimmy Kimmel Live! at 11:35pm on ABC.
Dana Carvey (One of the Boys) - Dana appears on Late Night with Seth Meyers at 12:36am on NBC. He also talks about First Impressions on NBC's Today sometime between 7-9am and in the 9am hour.
Zach Woods (Silicon Valley/Playing House/The Office) - Zach is a guest on The Late Late Show with James Corden at 12:37am on CBS.
Louis C.K. (Louie) - Louis stops by Conan at 11pm on TBS.
Mary Elizabeth Ellis (The Grinder/Perfect Couples/It's Always Sunny in Philadelphia) - Mary appears on Conan at 11pm on TBS.
Morris Chestnut (Out All Night) - Morris visits Watch What Happens: Live at 11pm on Bravo.
Geena Davis (The Geena Davis Show/Buffalo Bill) - Geena gives highlights of this year's Bentonville Film Festival on ABC's Good Morning America sometime between 7-9am.
Sarah Jessica Parker (Sex and the City/Square Pegs) - Sarah is a guest on Access Hollywood Live, so check your local listings.
Mario Lopez (Saved by the Bell/Saved by the Bell: The New Class) - Mario chats with the ladies of The View on ABC at 11am ET/10am CT-PT.
Alyssa Milano (Who's the Boss?/Romantically Challenged) - Alyssa is a guest on The Real, so check your local listings.
Eric Stonestreet (Modern Family) - Eric appears on New York Live on WNBC in New York at 12:30pm ET and on the AOL Build Show at 3pm.
Kristin Chenoweth (Kristin) - Kristin is a guest on New York Live on WNBC in New York at 12:30pm ET.
---