Wednesday, September 07, 2005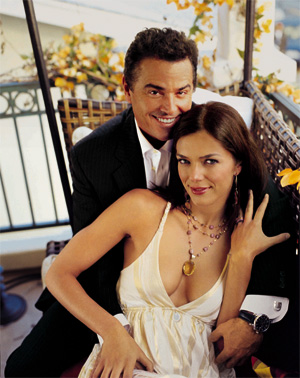 We are still waiting if there will be a Bob Denver tribute event on TV Land. If we don't hear anything by tomorrow, I'd say the answer is no. So keep checking back here often to see if there is an update. As of now, GSN is the only network doing one.
Today we have a lot of little television news to tell you. You might have heard some or all of these, but I feel they are noteworthy. Sitcom stars Todd Bridges (
Diff'rent Strokes
) and Dave Couiler (
Full House
) will be skating this fall on FOX on the reality show Skating with Celebrities. Read the press release
here
. This year's
Emmy Awards
, which are airing on Sunday, September 18 on CBS, will have stars of television sing classic television themes. I guess they watched the
TV Land Awards
and liked that idea. The stars include
Kristen Bell (

Veronica Mars

) singing the theme for

Fame

,
William Shatner (

Boston Legal

) and opera mezzo von Stade will sing the

Star Trek

theme,
Megan Mullally (

Will & Grace

) and Donald Trump (

The Apprentice

) with the

Green Acres

tune
,
and Gary Dourdan (

CSI: Crime Scene Investigation

) and R&B artist Macy Gray will sing the popular

The Jeffersons

theme.


And VH1 will relive two 1970's sitcom stars for two new shows. Christopher Knight (Peter from

The Brady Bunch

) and Danny Bonaduce (

The Partridge Family

) will headline their own shows. Knight will star in

My Fair Brady

, premiering Sunday at 9:30 p.m. Bonaduce will star in

Breaking Bonaduce

premiering Sunday at 10:30 p.m.

In

Brady

, Lovebirds Christopher Knight and Adrianne Curry first met on VH1's The Surreal Life 4. Now, a year later the two are living together and the twice married Chris is having commitment issues. Adrianne, on the other hand, is ready to start a family and gives Chris and ultimatum...either step up or I'm moving out. And in Bonaduce,
America remembers Danny Bonaduce as the cute but spunky Danny Partridge in the 1970's classic series

The Partridge

Family

. Since then however, this former child star has lived a life filled with dichotomy as the hard partying "bad guy" while also trying to remain a loving family man.
Posted by

Pavan -- SitcomsOnline.com
at 7:59 PM


---
New on DVD/Blu-ray (January)
01/06 - The Cosby Show - Season 5 (Mill Creek)
01/06 - The Cosby Show - Season 6 (Mill Creek)
01/06 - The Cosby Show - Seasons 5 & 6 (Mill Creek)
01/06 - Girls - The Complete Third Season (Blu-ray)
01/06 - Married with Children - Season Seven (Mill Creek)
01/06 - Married with Children - Season Eight (Mill Creek)
01/06 - Married with Children - Seasons Seven and Eight (Mill Creek)
01/13 - The Big House - The Complete Series
01/13 - Episodes - The Third Season
01/13 - The Facts of Life - The Complete Series (Shout! Factory
01/20 - Welcome Back, Kotter - The Complete Second Season
More TV DVD Releases / DVD Reviews Archive / SitcomsOnline Digest
---
Sitcoms Airing Tonight
Sunday, February 1
Bob's Burgers - "Easy Commercial, Easy Gommercial" (Fox, 7:00PM ET/PT) (Repeat)
To compete with fellow "restaurateur," Jimmy Pesto, and his blowout Super Bowl event, Bob is determined to create a Bob's Burgers commercial to air during the "big game." In an effort to outshine Pesto, the Belchers recruit Randy, a documentarian, to assist with the filmmaking and hire on former pro football star Connie Frye (guest voice Jordan Peele) to be the celebrity endorser.
The Simpsons - "Treehouse of Horror XXV" (Fox, 7:30PM ET/PT) (Repeat)
On the annual spooktacular Halloween special, Bart and Lisa are transported to a demon-filled alternate universe after Bart reads a set of Aramaic symbols he finds on the underside of his desk; Moe's "Clockwork Orange"-style gang is disrupted when Dum (Homer) falls for a girl (Marge) who wants him to give up the thug life; and, in an homage to "The Others," the Simpsons are visited by their former Tracey Ullman-era versions of themselves.
The Simpsons - "Covercraft" (Fox, 8:00PM ET/PT) (Repeat)
Homer has a mid-life crisis, takes up bass guitar and forms a cover band with some of the other dads in town. But the band's modest early success is soon overwhelmed by the breakout potential of their most unlikely star, Apu.
Brooklyn Nine-Nine - "The Jimmy Jab Gabes" (Fox, 8:30PM ET/PT) (Repeat)
The squad has time to kill when the arrival of the Serbian President's motorcade to Brooklyn has been delayed. So, Jake launches "The Jimmy Jab Games," an annual series of competitions in the precinct. Meanwhile, Terry and Holt take on a new drug task force approved by Holt's nemesis, Deputy Chief Madeline Wuntch (guest star Kyra Sedgwick).
Family Guy - "Turkey Guys" (Fox, 9:00PM ET/PT) (Repeat)
On the night before Thanksgiving, Brian and Peter drunkenly devour the holiday bird, and then must go out to find a replacement. In Peter absence, Chris attempts to step up and become the man of the house.
Bob's Burgers - "Uncle Teddy" (Fox, 9:30PM ET/PT) (Repeat)
When Bob and Linda leave town for a romantic getaway (at a Burger Convention), they ask Teddy to babysit Tina, Gene and Louise. While the 'rents are away, Teddy is eager to earn the coveted title of "Uncle Teddy" and does so by putting Tina's crush in his rightful place after discovering that he was just using her for – gasp – free burgers! Hijinks ensue.
---
Sitcom Stars on Talk Shows (Week of February 2) (All times ET unless noted)
Monday, February 2

Sean Hayes (The Millers/Sean Saves the World/Will & Grace) - Sean guest co-hosts The Late Late Show at 12:37am on CBS.
Martin Short (Mulaney/The Martin Short Show) - Martin visits Comedy Central's The Daily Show with Jon Stewart at 11pm.
Nick Kroll (The League/Cavemen) - Nick is a guest on @midnight on Comedy Central at midnight.
Seth Morris (The Hotwives of Orlando/Go On/Happy Endings) - Seth appears on @midnight on Comedy Central at midnight.
Busy Philipps (Cougar Town) - Busy chats on LIVE! with Kelly and Michael, so check your listings.
Tom Arnold (Roseanne/Tom/The Tom Show) - Tom is a guest on The Meredith Vieira Show, so check your local listings.
Simon Helberg (The Big Bang Theory) - Simon appears on The Queen Latifah Show on your local station or at 3am on BET. He also talks about his new film We'll Never Have Paris on Rachael Ray, so check your local listings.
Sherri Shepherd (Less Than Perfect/Sherri) - Sherri guest co-hosts The Real, so check your local listings.
Amanda Peet (Togetherness/Bent) - Amanda is a guest on The Talk on CBS at 2pm ET/1pm CT-PT.
Cristela Alonzo (Cristela) - Cristela guest co-hosts The View on ABC at 11am ET/10am CT-PT.
Josh Segarra (Sirens) - Josh talks about USA Network's Sirens on The Better Show, so check your local listings.
Gregory Harrison (Joey/The Family Man) - Gregory gives a look at his new Hallmark Channel original movie Cloudy with a Chance of Love on Home & Family on Hallmark Channel at 10am ET/PT.
Randall Park (Fresh Off the Boat) - Randall discusses his new ABC sitcom Fresh Off the Boat on HuffPost Live at 4:40pm. Fresh Off the Boat premieres on ABC on February 4 at 8:30pm and 9:30pm ET/PT.
Michael Ian Black (Burning Love/Ed) - Michael is a guest on Larry King Now at 2/5pm PT/ET on Ora.tv and Hulu.
Chelsea Handler (Are You There, Chelsea?) - Chelsea discusses the Super Bowl on Access Hollywood Live, so check your local listings.
Holly Robinson Peete (Hangin' with Mr. Cooper/For Your Love) - Holly is part of the guest panel on Access Hollywood Live, so check your local listings.
Barry Williams (The Brady Bunch) - Barry talks about his new show A Very Barry Branson on Access Hollywood Live, so check your local listings. A Very Barry Branson premieres on GAC on February 5.
---