Wednesday, September 07, 2005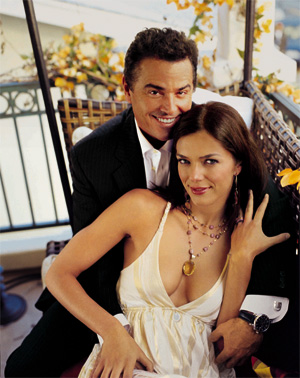 We are still waiting if there will be a Bob Denver tribute event on TV Land. If we don't hear anything by tomorrow, I'd say the answer is no. So keep checking back here often to see if there is an update. As of now, GSN is the only network doing one.
Today we have a lot of little television news to tell you. You might have heard some or all of these, but I feel they are noteworthy. Sitcom stars Todd Bridges (
Diff'rent Strokes
) and Dave Couiler (
Full House
) will be skating this fall on FOX on the reality show Skating with Celebrities. Read the press release
here
. This year's
Emmy Awards
, which are airing on Sunday, September 18 on CBS, will have stars of television sing classic television themes. I guess they watched the
TV Land Awards
and liked that idea. The stars include
Kristen Bell (

Veronica Mars

) singing the theme for

Fame

,
William Shatner (

Boston Legal

) and opera mezzo von Stade will sing the

Star Trek

theme,
Megan Mullally (

Will & Grace

) and Donald Trump (

The Apprentice

) with the

Green Acres

tune
,
and Gary Dourdan (

CSI: Crime Scene Investigation

) and R&B artist Macy Gray will sing the popular

The Jeffersons

theme.


And VH1 will relive two 1970's sitcom stars for two new shows. Christopher Knight (Peter from

The Brady Bunch

) and Danny Bonaduce (

The Partridge Family

) will headline their own shows. Knight will star in

My Fair Brady

, premiering Sunday at 9:30 p.m. Bonaduce will star in

Breaking Bonaduce

premiering Sunday at 10:30 p.m.

In

Brady

, Lovebirds Christopher Knight and Adrianne Curry first met on VH1's The Surreal Life 4. Now, a year later the two are living together and the twice married Chris is having commitment issues. Adrianne, on the other hand, is ready to start a family and gives Chris and ultimatum...either step up or I'm moving out. And in Bonaduce,
America remembers Danny Bonaduce as the cute but spunky Danny Partridge in the 1970's classic series

The Partridge

Family

. Since then however, this former child star has lived a life filled with dichotomy as the hard partying "bad guy" while also trying to remain a loving family man.
Posted by

Pavan -- SitcomsOnline.com
at 7:59 PM


---
Sitcoms Airing Tonight
Sunday, April 22
Bob's Burgers - "Cheer Up Sleepy Gene" (Fox, 7:00PM ET/PT) (Repeat)
Gene gets invited to his first sleepover, and things don't go as planned; Bob and Linda record themselves while sleeping to prove who snores more.
Bob's Burgers - "Go Tina on the Mountain" (Fox, 7:30PM ET/PT)
The Belcher kids go to Outdoor Education only to have it rain; Tina meets a hermit living in the woods; Bob and Linda experience what it's like to be empty nesters.
The Simpsons - "Lisa Gets the Blues" (Fox, 8:00PM ET/PT)
When the Simpsons' flight is rerouted to New Orleans, Lisa rediscovers her passion for jazz; Bart is intrigued by voodoo; Homer is intrigued by drinking.
Brooklyn Nine-Nine - "Gray Star Mutual" (Fox, 8:30PM ET/PT)
When a fire destroys Charles' food truck, Pimento unexpectedly shows up to the scene as the insurance agent; Rosa helps Amy to see that it's okay to get excited about picking her wedding dress; Gina and Terry coach Holt in the art of social media.
Family Guy - "'Family Guy' Through the Years" (Fox, 9:00PM ET/PT)
A reimagining of the show as a series that's been on the air for 60 years; a look back at the cultural events and issues tackled on the show through the decades.
The Last Man on Earth - "The Blob" (Fox, 9:30PM ET/PT)
A thermal heat detector reveals a potential sign of life, but Tandy doesn't want the group to split up to investigate; Todd and Erica have trouble seeing eye to eye.
---
Sitcom Stars on Talk Shows (Week of April 16)
Friday, April 20

Rory Scovel (Ground Floor) - Rory chats with the ladies of The View on ABC at 11am ET/10am CT-PT.
Susan Kelechi Watson (Louie) - Susan is a guest on Harry, so check your local listings.
Christine Lahti (The Harvey Korman Show) - Christine Christine talks about her book True Stories from an Unreliable Eyewitness: A Feminist Coming of Age on Access Live, so check your local listings.
T.R Knight (Charlie Lawrence) - T.R. talks about Nat Geo's Genius on New York Live on WNBC in New York at 11:30am ET.
Emmanuelle Chriqui (Entourage) - Emmanuelle talks about Super Troopers 2 on People Now at 8:30am.
Sean Hayes (Will & Grace/Sean Saves the World) - Sean speaks out about his terrifying health scare and his fight against hearing loss on The Dr. Oz Show, so check your local listings.
Holly Robinson Peete (Hangin' with Mr. Cooper/For Your Love) - Holly talks about Meet the Peetes on Home & Family on Hallmark Channel at 10am ET/PT.
Alia Shawkat (Search Party/Arrested Development) - Alia talks about Duck Butter on the BUILD Series at 10am.
Busy Philipps (Vice Principals/Cougar Town) - Busy is a guest on The Talk on CBS at 2pm ET/1pm CT-PT.
Jodie Sweetin (Fuller House/Hollywood Darlings/Full House), Beverley Mitchell (Hollywood Darlings and Christine Lakin (Hollywood Darlings/Step by Step) - Jodie, Beverley and Christine talk about Pop's Hollywood Darlings on Good Mythical Morning with Rhett & Link on YouTube.
---
New on DVD/Blu-ray (February/March/April)
02/06 - All in the Family - Seasons 1-5
02/06 - Bosom Buddies - The Complete Series
02/06 - Women of the House - Complete 12 Episode Series
02/13 - Broad City - Season 4
02/13 - Three's Company - The Complete Series - Come and Knock on Our Door Collection
02/27 - Diff'rent Strokes - The Complete Seventh Season
02/27 - Green Acres - The Complete Fifth Season
02/27 - Mayberry R.F.D. - The Complete First Season
03/06 - Atlanta - The Complete First Season
03/06 - Curb Your Enthusiasm - The Complete Ninth Season
03/13 - The New Adventures of Old Christine - The Complete First Season
03/27 - One Day at a Time - Season Two
04/03 - Ballers - The Complete Third Season (Blu-ray)
04/03 - 90's Sitcom (Just Shoot Me!/The Larry Sanders Show/Wings) Starter Set - Season 1 & 2 Bundle
04/10 - Vice Principals - The Compelte Series
04/17 - Perfect Strangers - The Complete Third Season
More TV DVD Releases / DVD Reviews Archive / SitcomsOnline Digest
---