Wednesday, September 07, 2005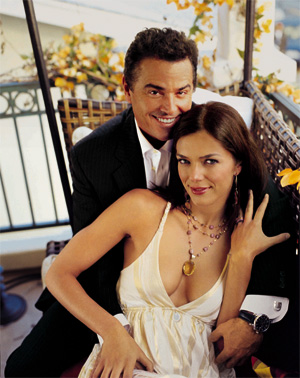 We are still waiting if there will be a Bob Denver tribute event on TV Land. If we don't hear anything by tomorrow, I'd say the answer is no. So keep checking back here often to see if there is an update. As of now, GSN is the only network doing one.
Today we have a lot of little television news to tell you. You might have heard some or all of these, but I feel they are noteworthy. Sitcom stars Todd Bridges (
Diff'rent Strokes
) and Dave Couiler (
Full House
) will be skating this fall on FOX on the reality show Skating with Celebrities. Read the press release
here
. This year's
Emmy Awards
, which are airing on Sunday, September 18 on CBS, will have stars of television sing classic television themes. I guess they watched the
TV Land Awards
and liked that idea. The stars include
Kristen Bell (

Veronica Mars

) singing the theme for

Fame

,
William Shatner (

Boston Legal

) and opera mezzo von Stade will sing the

Star Trek

theme,
Megan Mullally (

Will & Grace

) and Donald Trump (

The Apprentice

) with the

Green Acres

tune
,
and Gary Dourdan (

CSI: Crime Scene Investigation

) and R&B artist Macy Gray will sing the popular

The Jeffersons

theme.


And VH1 will relive two 1970's sitcom stars for two new shows. Christopher Knight (Peter from

The Brady Bunch

) and Danny Bonaduce (

The Partridge Family

) will headline their own shows. Knight will star in

My Fair Brady

, premiering Sunday at 9:30 p.m. Bonaduce will star in

Breaking Bonaduce

premiering Sunday at 10:30 p.m.

In

Brady

, Lovebirds Christopher Knight and Adrianne Curry first met on VH1's The Surreal Life 4. Now, a year later the two are living together and the twice married Chris is having commitment issues. Adrianne, on the other hand, is ready to start a family and gives Chris and ultimatum...either step up or I'm moving out. And in Bonaduce,
America remembers Danny Bonaduce as the cute but spunky Danny Partridge in the 1970's classic series

The Partridge

Family

. Since then however, this former child star has lived a life filled with dichotomy as the hard partying "bad guy" while also trying to remain a loving family man.
Posted by

Pavan -- SitcomsOnline.com
at 7:59 PM


---
New on DVD/Blu-ray (June)
06/14 - Ballers - The Complete First Season (Blu-ray)
06/14 - The League - Season 7 - The Final Fantasy
06/14 - The League - The Complete Series
06/14 - Maude - The Complete Fifth Season
06/14 - Survivor's Remorse - The Complete Second Season
06/21 - Workaholics - Season Six
06/24 - The Monkees - The Complete Series (Blu-ray)
06/28 - Two Guys and a Girl - The Complete Series
More TV DVD Releases / DVD Reviews Archive / SitcomsOnline Digest
---
Sitcoms Airing Tonight
Sunday, June 26
Cooper Barrett's Guide to Surviving Life - "How to Survive Your Birthday" (Fox, 7:00PM ET/PT)
When the gang throws Cooper a surprise birthday party, things go south after Kelly witnesses Cooper and Ramona sharing a kiss.
Bob's Burgers - "Nice-Capades" (Fox, 7:30PM ET/PT) (Repeat)
When a grumpy mall Santa threatens the kids with the dreaded Naughty List, Gene, Tina and Louise decide to put on a musical performance spectacular to earn their spot on the Nice List. Can they change Santa's mind in time to save their Christmas?
The Simpsons - "Orange Is the New Yellow" (Fox, 8:00PM ET/PT) (Repeat)
When Marge gets arrested for letting Bart go to the park unsupervised, she serves time only to realize that prison is a welcome break from the demands of her life as a mom and wife. In her absence, Homer struggles to manage all of the parenting responsibilities that Marge usually handles.
Brooklyn Nine-Nine - "Into the Woods" (Fox, 8:30PM ET/PT) (Repeat)
Jake and Charles convince Terry to take a weekend camping trip as a much needed "babymoon," but they soon realize it might not be the idealistic weekend for which they had hoped. Meanwhile back at the precinct, Holt gives Rosa some important relationship advice and Amy enlists Gina's help to prepare her for an important presentation.
Family Guy - "Hot Pocket-Dial" (Fox, 9:00PM ET/PT) (Repeat)
Quagmire admits that he's in love with Lois. Unfortunately, he proclaims his love while he has accidentally pocket-dialed Peter. Peter is furious and Brian takes it upon himself to fix the situation.
The Last Man on Earth - "Baby Steps" (Fox, 9:30PM ET/PT)
Re-population becomes a hot topic with the Malibu survivors.
Still the King - "Guess Who's Comin' to Dinner" (CMT, 9:00PM ET/PT)
Charlotte is furious when she discovers that Vernon has been posing as a preacher; the church is vandalized.
---
Sitcom Stars on Talk Shows (Week of June 27)
Sunday, June 26

Sandra Bernhard (Roseanne) - Catch Sandra on Watch What Happens: Live at 11pm on Bravo.
Monday, June 27
Eric Stonestreet (Modern Family) - Watch Eric on Jimmy Kimmel Live! at 11:35pm on ABC.
Nia Long (Uncle Buck/The Fresh Prince of Bel-Air) - Nia is a guest on Jimmy Kimmel Live! at 11:35pm on ABC.
Marc Maron (Maron) - Marc appears on a repeat of The Tonight Show Starring Jimmy Fallon at 11:34pm on NBC.
Jenny Slate (Married/Bob's Burgers) - Jenny stops by The Late Show with Stephen Colbert at 11:35pm on CBS.
Connie Britton (Spin City/The Fighting Fitzgeralds/Lost at Home) - Connie is a guest on a repeat of Late Night with Seth Meyers at 12:36am on NBC.
Natasha Leggero (Another Period/Free Agents) - Natasha appears on a repeat of Late Night with Seth Meyers at 12:36am on NBC.
Zach Woods (Silicon Valley/Playing House/The Office) - Zach appears on a repeat of The Late Late Show with James Corden at 12:37am on CBS.
Greg Proops (True Jackson, VP) - Greg is a guest on @midnight on Comedy Central at midnight.
Jill Kargman (Odd Mom Out) - Jill visits Watch What Happens: Live at 11pm on Bravo.
Aubrey Plaza (Parks and Recreation) - Aubrey appears on Conan at 11pm on TBS.
D.L. Hughley (The Hughleys) - D.L. guest co-hosts LIVE! with Kelly, so check your listings.
Demi Lovato (Sonny with a Chance) - Demi appears on a repeat of The Ellen DeGeneres Show, so check your local listings.
Kellita Smith (The First Family/The Bernie Mac Show) - Kellita stops by The Real, so check your local listings.
Jamie Lynn Spears (Zoey 101) - Jamie reveals that her husband and daughter are hounding her for more children on People Now at 8:30am.
Craig Bierko (Unhitched/Madman of the People/Sydney) - Craig is a guest on New York Live on WNBC in New York at 12:30pm ET.
Michaela Watkins (Casual/Trophy Wife) - Michaela talks about Hulu's Casual on the AOL Build ShoW at 11am.
Louis C.K. (Louie) and Kevin Hart (The Big House/Undeclared) - Louis and Kevin talk about The Secret Life of Pets on NBC's Today sometime between 7-9am.
Tony Shalhoub (We Are Men/Wings)- Tony will be on CBS This Morning sometime between 7-9am.
Arsenio Hall (Arsenio) - Arsenio guest co-hosts Access Hollywood Live, so check your local listings.
---