Wednesday, September 07, 2005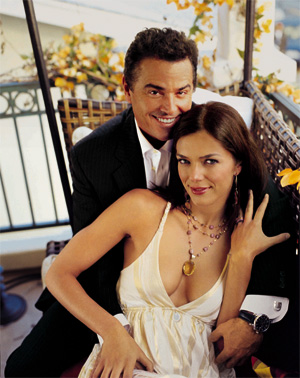 We are still waiting if there will be a Bob Denver tribute event on TV Land. If we don't hear anything by tomorrow, I'd say the answer is no. So keep checking back here often to see if there is an update. As of now, GSN is the only network doing one.
Today we have a lot of little television news to tell you. You might have heard some or all of these, but I feel they are noteworthy. Sitcom stars Todd Bridges (
Diff'rent Strokes
) and Dave Couiler (
Full House
) will be skating this fall on FOX on the reality show Skating with Celebrities. Read the press release
here
. This year's
Emmy Awards
, which are airing on Sunday, September 18 on CBS, will have stars of television sing classic television themes. I guess they watched the
TV Land Awards
and liked that idea. The stars include
Kristen Bell (

Veronica Mars

) singing the theme for

Fame

,
William Shatner (

Boston Legal

) and opera mezzo von Stade will sing the

Star Trek

theme,
Megan Mullally (

Will & Grace

) and Donald Trump (

The Apprentice

) with the

Green Acres

tune
,
and Gary Dourdan (

CSI: Crime Scene Investigation

) and R&B artist Macy Gray will sing the popular

The Jeffersons

theme.


And VH1 will relive two 1970's sitcom stars for two new shows. Christopher Knight (Peter from

The Brady Bunch

) and Danny Bonaduce (

The Partridge Family

) will headline their own shows. Knight will star in

My Fair Brady

, premiering Sunday at 9:30 p.m. Bonaduce will star in

Breaking Bonaduce

premiering Sunday at 10:30 p.m.

In

Brady

, Lovebirds Christopher Knight and Adrianne Curry first met on VH1's The Surreal Life 4. Now, a year later the two are living together and the twice married Chris is having commitment issues. Adrianne, on the other hand, is ready to start a family and gives Chris and ultimatum...either step up or I'm moving out. And in Bonaduce,
America remembers Danny Bonaduce as the cute but spunky Danny Partridge in the 1970's classic series

The Partridge

Family

. Since then however, this former child star has lived a life filled with dichotomy as the hard partying "bad guy" while also trying to remain a loving family man.
Posted by

Pavan -- SitcomsOnline.com
at 7:59 PM


---
Sitcoms Airing Tonight
Monday, October 23
The Big Bang Theory - "The Collaboration Contamination" (CBS, 8:00PM ET/PT)
Sheldon and Koothrappali confide in Bernadette when they can't handle Amy and Wolowitz working together. Also, Penny and Leonard learn new tactics for how to deal Sheldon from an unlikely source.
9JKL - "High Steaks" (CBS, 8:30PM ET/PT)
Josh begs Andrew and Harry to let him join their racquetball game only to learn the monthly outing is actually a cover for having a steak and scotch dinner behind Judy's back. Also, Eve and Judy begrudgingly spend their free evening together.
Kevin Can Wait - "Grief Thief" (CBS, 9:00PM ET/PT)
Vanessa plots her revenge on Kevin after learning he lied his way out of working on a Sunday to attend a football game with Goody. Also, Kyle has a new girlfriend, Denise (Deborah Unger), and Chale and Kendra have their first squabble as a married couple.
Me, Myself & I - "Family Tree" (CBS, 9:30PM ET/PT)
When Mid-life Alex helps his daughter, Abby, with a family tree project, he's tempted to find his biological father. Also, Young Alex must perform at Ron's family reunion talent show, and Older Alex meets Older Abby's new boyfriend.
---
Sitcom Stars on Talk Shows (Week of October 23)
Monday, October 23

George Clooney (The Facts of Life/Roseanne) - Watch George on Jimmy Kimmel Live! at 11:35pm on ABC. He will also be on ABC's Good Morning America sometime between 7-9am.
Anna Faris (Mom) - Anna appears on The Late Show with Stephen Colbert at 11:35pm on CBS. She chats about the book Unqualified on LIVE! with Kelly and Ryan, so check your listings. She will also be on the AOL Build Show at 12pm.
John Cho (Selfie/Go On/Kitchen Confidential) - John is a guest on Late Night with Seth Meyers at 12:36am on NBC. He will also be on Good Day New York on WNYW-Fox5 in New York sometime between 7-10am.
Method Man (Method & Red) - Method Man visits The Late Late Show with James Corden at 12:37am on CBS.
Stephanie Beatriz (Brooklyn Nine-Nine) - Stephanie stops by Last Call with Carson Daly at 1:35am on NBC.
Bobby Moynihan (Me, Myself & I) - Bobby appears on The Ellen DeGeneres Show, so check your local listings.
Mark Feuerstein (9JKL/Good Morning, Miami/Conrad Bloom/Fired Up) - Mark is a guest on Steve, so check your local listings.
Betsy Brandt (Life in Pieces/The Michael J. Fox Show) - Betsy will be on New York Live on WNBC in New York at 11:30am ET.
Heather Graham (Californication/Emily's Reasons Why Not) - Heather talks about Law & Order: True Crime on NBC's Today sometime between 7-9am. She will also be on the AOL Build Show at 2pm. She can be heard on The Morning Mash Up on SiriusXM at 9:25am.
Valerie Bertinelli (Hot in Cleveland/Café Americain/One Day at a Time) - Valerie shows Clinton Kelly how to make her amazing pumpkin dish on ABC's The Chew at 1pm ET/12pm PT/CT.
Judith Light (Transparent/Phenom/Who's the Boss?) - Judith is a guest on ABC's Good Morning America sometime between 7-9am.
---
New on DVD/Blu-ray (June/July/August)
06/13 - The Andy Griffith Show - Return to Mayberry
06/13 - That's My Mama - The Complete Series
06/20 - Workaholics - The Final (Seventh) Season
06/20 - Workaholics - The Complete Series
06/27 - The Jamie Foxx Show - The Complete Third Season
07/04 - Superstore - Season Two
07/18 - Father Knows Best - Season Six
07/25 - Diff'ernt Strokes - The Complete Sixth Season
07/25 - Girls - The Final (Sixth) Season (Blu-ray)
08/01 - Alice - The Complete Fifth Season (WBShop.com)
08/01 - Crashing - The Complete First Season (Blu-ray)
08/15 - Rhoda - Season Four
08/22 - Brooklyn Nine-Nine - Season Four
08/29 - Will & Grace - Season One (Universal)
More TV DVD Releases / DVD Reviews Archive / SitcomsOnline Digest
---