Wednesday, September 07, 2005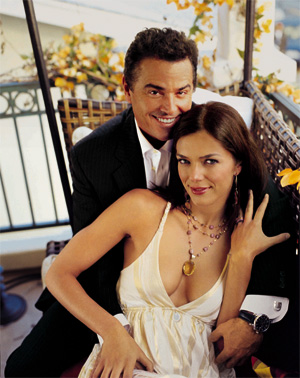 We are still waiting if there will be a Bob Denver tribute event on TV Land. If we don't hear anything by tomorrow, I'd say the answer is no. So keep checking back here often to see if there is an update. As of now, GSN is the only network doing one.
Today we have a lot of little television news to tell you. You might have heard some or all of these, but I feel they are noteworthy. Sitcom stars Todd Bridges (
Diff'rent Strokes
) and Dave Couiler (
Full House
) will be skating this fall on FOX on the reality show Skating with Celebrities. Read the press release
here
. This year's
Emmy Awards
, which are airing on Sunday, September 18 on CBS, will have stars of television sing classic television themes. I guess they watched the
TV Land Awards
and liked that idea. The stars include
Kristen Bell (

Veronica Mars

) singing the theme for

Fame

,
William Shatner (

Boston Legal

) and opera mezzo von Stade will sing the

Star Trek

theme,
Megan Mullally (

Will & Grace

) and Donald Trump (

The Apprentice

) with the

Green Acres

tune
,
and Gary Dourdan (

CSI: Crime Scene Investigation

) and R&B artist Macy Gray will sing the popular

The Jeffersons

theme.


And VH1 will relive two 1970's sitcom stars for two new shows. Christopher Knight (Peter from

The Brady Bunch

) and Danny Bonaduce (

The Partridge Family

) will headline their own shows. Knight will star in

My Fair Brady

, premiering Sunday at 9:30 p.m. Bonaduce will star in

Breaking Bonaduce

premiering Sunday at 10:30 p.m.

In

Brady

, Lovebirds Christopher Knight and Adrianne Curry first met on VH1's The Surreal Life 4. Now, a year later the two are living together and the twice married Chris is having commitment issues. Adrianne, on the other hand, is ready to start a family and gives Chris and ultimatum...either step up or I'm moving out. And in Bonaduce,
America remembers Danny Bonaduce as the cute but spunky Danny Partridge in the 1970's classic series

The Partridge

Family

. Since then however, this former child star has lived a life filled with dichotomy as the hard partying "bad guy" while also trying to remain a loving family man.
Posted by

Pavan -- SitcomsOnline.com
at 7:59 PM


---
New on DVD/Blu-ray (December/January)
12/06 - Family Guy - Season Fourteen
12/13 - American Dad! - Volume 11
12/13 - Newhart - The Complete Seventh Season
01/03 - Girls - The Complete Fifth Season (Blu-ray)
01/10 - Broad City - Season 3
01/17 - I Love Lucy - Superstar Special #2 (Colorized)
01/17 - The Love Boat - Season Three - Volume One
01/17 - The Love Boat - Season Three - Volume Two
01/24 - Hooperman - Season One
01/24 - Hooperman - Season Two
01/31 - Ballers - The Complete Second Season (Blu-ray)
More TV DVD Releases / DVD Reviews Archive / SitcomsOnline Digest
---
Sitcoms Airing Tonight
Saturday, January 21
The Thundermans - "Better Off Wed" (Nickelodeon, 8:00PM ET/PT)
The kids learn that Dr. Colosso ruined their parents' wedding years earlier, and want to recreate Hank & Barb's dream day as their anniversary gift. However, Dr. Colosso remains a threat, and they must keep their plans a secret.
Nicky, Ricky, Dicky & Dawn - "Keeping Up with the Quadashians" (Nickelodeon, 8:30PM ET/PT)
After binge watching their favorite reality TV show, the Quads decide their lives are every bit as "reality TV" worthy, and decide to make a show of their own. Guest Stars: Maddie Ziegler, Mackenzie Ziegler
School of Rock - "Don't Let Me Be Misunderstood" (Nickelodeon, 9:00PM ET/PT)
Tomika and Zack work on a love song together, leading to a moment that will change their friendship forever. Summer and Lawrence hang out together for the first time, and Freddy helps Mr. Finn with a problem.
---
Sitcom Stars on Talk Shows (Week of January 23)
Saturday, January 21

Phylicia Rashad (The Cosby Show/Cosby) - Phylicia will be featured on Oprah: Where Are They Now? at 10pm ET/PT on OWN.
Sunday, January 22
NeNe Leakes (The New Normal) - Catch NeNe on Watch What Happens: Live at 11pm on Bravo.
Monday, January 23
Allison Janney (Mom/Mr. Sunshine) - Watch Allison on a repeat of The Late Late Show with James Corden at 12:37am on CBS.
William Shatner ($h*! My Dad Says) and Henry Winkler (Happy Days/Arrested Development/Out of Practice) - William and Henry are guests on a repeat of Last Call with Carson Daly at 1:35am on NBC.
Kevin Nealon (Man with a Plan/Weeds/Hiller and Diller/Champs) - Kevin appears on @midnight on Comedy Central at midnight.
Jade Catta-Preta (Manhattan Love Story) - Jade is a guest on @midnight on Comedy Central at midnight.
Wendi McClendon-Covey (The Goldbergs/Rules of Engagement/Reno 911!) - Wendi stops by Watch What Happens: Live at 11pm on Bravo.
Cristela Alonzo (Cristela) - Cristela chats with the ladies of The View on ABC at 11am ET/10am CT-PT.
Tika Sumpter (The Game) - Tika appears on The Real, so check your local listings.
Justina Machado (One Day at a Time) - Justina will be on New York Live on WNBC in New York at 12:30pm ET.
Jerry O'Connell (We Are Men/Carpoolers/My Secret Identity) - Jerry and Rebecca Romjin talk about Love Locks on NBC's Today in the 9am hour. Jerry will also be on Home & Family on Hallmark Channel at 10am ET/PT and on Watch What Happens: Live at 11pm on Bravo.
Retta (Parks and Recreation) - Retta talks about Girlfriend's Guide to Divorce on NBC's Today in the 10am hour.
---