Wednesday, September 07, 2005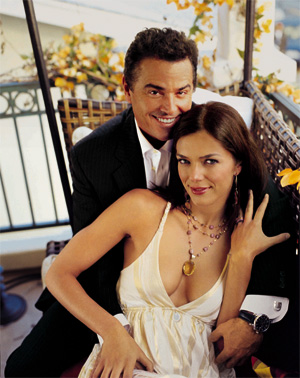 We are still waiting if there will be a Bob Denver tribute event on TV Land. If we don't hear anything by tomorrow, I'd say the answer is no. So keep checking back here often to see if there is an update. As of now, GSN is the only network doing one.
Today we have a lot of little television news to tell you. You might have heard some or all of these, but I feel they are noteworthy. Sitcom stars Todd Bridges (
Diff'rent Strokes
) and Dave Couiler (
Full House
) will be skating this fall on FOX on the reality show Skating with Celebrities. Read the press release
here
. This year's
Emmy Awards
, which are airing on Sunday, September 18 on CBS, will have stars of television sing classic television themes. I guess they watched the
TV Land Awards
and liked that idea. The stars include
Kristen Bell (

Veronica Mars

) singing the theme for

Fame

,
William Shatner (

Boston Legal

) and opera mezzo von Stade will sing the

Star Trek

theme,
Megan Mullally (

Will & Grace

) and Donald Trump (

The Apprentice

) with the

Green Acres

tune
,
and Gary Dourdan (

CSI: Crime Scene Investigation

) and R&B artist Macy Gray will sing the popular

The Jeffersons

theme.


And VH1 will relive two 1970's sitcom stars for two new shows. Christopher Knight (Peter from

The Brady Bunch

) and Danny Bonaduce (

The Partridge Family

) will headline their own shows. Knight will star in

My Fair Brady

, premiering Sunday at 9:30 p.m. Bonaduce will star in

Breaking Bonaduce

premiering Sunday at 10:30 p.m.

In

Brady

, Lovebirds Christopher Knight and Adrianne Curry first met on VH1's The Surreal Life 4. Now, a year later the two are living together and the twice married Chris is having commitment issues. Adrianne, on the other hand, is ready to start a family and gives Chris and ultimatum...either step up or I'm moving out. And in Bonaduce,
America remembers Danny Bonaduce as the cute but spunky Danny Partridge in the 1970's classic series

The Partridge

Family

. Since then however, this former child star has lived a life filled with dichotomy as the hard partying "bad guy" while also trying to remain a loving family man.
Posted by

Pavan -- SitcomsOnline.com
at 7:59 PM


---
New on DVD/Blu-ray (October/November/December)
10/07 - The Dick Van Dyke Show - Classic Christmas Episodes
10/07 - The Flying Nun - The Complete First and Second Seasons (Mill Creek)
10/07 - The Middle - The Complete Fifth Season (Warner Archive)
10/07 - The Office - The Complete Series
10/07 - The Wonders Years - Season One
10/10 - The Wonder Years - The Complete Series - Read Our Review / The Signature Edition / Seasons 1-3
10/14 - 2 Broke Girls - The Complete Third Season
10/14 - Two and a Half Men - The Complete Eleventh Season
10/21 - Married with Children - Seasons 5 and 6 (Mill Crek)
10/21 - The Soul Man - The Complete Second Season
10/21 - Square Pegs - The Complete Series (Mill Creek)
10/28 - WKRP in Cincinnati - The Complete Series / Read Our Review
11/04 - Hot in Cleveland - Season Five
11/04 - Napoleon Dynamite - The Complete Animated Series
11/04 - Sgt. Bilko (The Phil Silvers Show) - The Complete Series
11/11 - Dads - The Complete Series
11/11 - Family Ties - The Complete Series
11/11 - My Favorite Martian - Best of Collection
11/11 - Taxi - The Complete Series
11/11 - Wings - The Complete Series (Mill Creek)
11/18 - King of the Hill - The Complete Seventh Season / The Complete Eighth Season
11/25 - Better Off Ted - The Complete Second Season
12/02 - Happy Days - The Sixth Season
12/09 - Barney Miller - The Complete Sixth Season
12/09 - The Jeffersons - The Complete Series
12/09 - Mister Ed - The Complete Series
12/09 - Mork & Mindy - The Fourth Season / The Complete Series
12/16 - The Many Loves of Dobie Gillis - The Final (Fourth) Season
12/23 - My Favorite Martian - Season Two - Collector's Edition
More TV DVD Releases / DVD Reviews Archive / SitcomsOnline Digest
---
Sitcoms Airing Tonight
Wednesday, November 26
Modern Family - "Do Not Push" (ABC, 9:00PM ET/PT) (Repeat)
It's Jay and Gloria's anniversary and they can't seem to get on the same page on what kind of gift to give – sentimental or expensive? And, the Dunphys head to Caltech for Alex's college tour and while Claire is busy convincing her to choose this school and stay close to home, Phil, Luke and Haley branch off to participate in a psyche experiment. Mitch and Cam are taking a new family portrait with Lily to replace the old one above their mantel, but Lily gives some serious face.
black-ish - "The Nod" (ABC, 9:30PM ET/PT) (Repeat)
Dre sets out to expand Andre Jr's social circle to include more black kids after he discovers Andre Jr. is clueless about "the nod." Meanwhile, hoping to inspire little Diane to become a doctor, Rainbow takes her to work at the hospital... on what turns out to be the worst day ever.
Hot in Cleveland - "Naked and Afraid" (TV Land, 10:00PM ET/PT)
Elka throws a party to sway the vote of a rival politician. Melanie tries to find out if their cute neighbor, Jack, saw her naked. Victoria has no idea what her new TV show is about.
The Exes - "An Officer and a Dental Man" (TV Land, 10:30PM ET/PT)
Haskell dates a beautiful woman who Phil is convinced is really a man. Stuart is filled with guilt after he sleeps with a woman who thinks he's a war hero.
Tyler Perry's For Better or Worse - "The Mammogram" (OWN, 9:00PM ET/PT)
In the spirit of Breast Cancer Awareness Month, Leslie talks the other women into getting a mammogram.
---
Sitcom Stars on Talk Shows (Week of November 24) (All times ET unless noted)
Wednesday, November 26

Mindy Kaling (The Mindy Project/The Office) - Watch Mindy on Jimmy Kimmel Live! at 11:35pm on ABC.
Nick Jonas (Jonas L.A.) - Nick drops by The Tonight Show Starring Jimmy Fallon at 11:34pm on NBC.
Allison Williams (Girls) - Allison appears on Late Night with Seth Meyers at 12:36am on NBC.
Chelsea Peretti (Brooklyn Nine-Nine) - Chelsea is a guest on a repeat of Conan at 11pm on TBS.
Steve Carell (The Office) - Steve appears on a repeat of Comedy Central's The Daily Show with Jon Stewart at 11pm.
Ron Funches (Undateable) - Ron is a guest on a repeat of @midnight on Comedy Central at midnight.
Tori Spelling (Mystery Girls) - Tori talks about the current state of her relationship with husband Dean, why her son won't stop cursing, her health scare and more on The Meredith Vieira Show, so check your local listings.
Jennifer Aniston (Friends) - Jennifer talks about Horrible Bosses 2 on The Talk on CBS at 2pm ET/1pm CT-PT.
Candace Cameron Bure (Full House) - Candace will be on KTLA Morning News KTLA Channel 5 in Los Angeles during the 9:00 a.m. hour PST. Candace's Christmas Under Wraps premieres on November 29 at 8/7C on Hallmark Channel.
John O'Hurley (Seinfeld) - John talks about the National Dog Show on NBC's Today sometime between 7-9am.
Marlo Thomas (That Girl) - Marlo is a guest on NBC's Today in the 9am hour.
---