Wednesday, September 07, 2005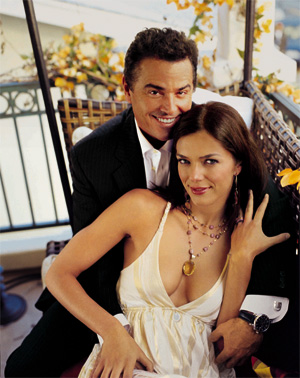 We are still waiting if there will be a Bob Denver tribute event on TV Land. If we don't hear anything by tomorrow, I'd say the answer is no. So keep checking back here often to see if there is an update. As of now, GSN is the only network doing one.
Today we have a lot of little television news to tell you. You might have heard some or all of these, but I feel they are noteworthy. Sitcom stars Todd Bridges (
Diff'rent Strokes
) and Dave Couiler (
Full House
) will be skating this fall on FOX on the reality show Skating with Celebrities. Read the press release
here
. This year's
Emmy Awards
, which are airing on Sunday, September 18 on CBS, will have stars of television sing classic television themes. I guess they watched the
TV Land Awards
and liked that idea. The stars include
Kristen Bell (

Veronica Mars

) singing the theme for

Fame

,
William Shatner (

Boston Legal

) and opera mezzo von Stade will sing the

Star Trek

theme,
Megan Mullally (

Will & Grace

) and Donald Trump (

The Apprentice

) with the

Green Acres

tune
,
and Gary Dourdan (

CSI: Crime Scene Investigation

) and R&B artist Macy Gray will sing the popular

The Jeffersons

theme.


And VH1 will relive two 1970's sitcom stars for two new shows. Christopher Knight (Peter from

The Brady Bunch

) and Danny Bonaduce (

The Partridge Family

) will headline their own shows. Knight will star in

My Fair Brady

, premiering Sunday at 9:30 p.m. Bonaduce will star in

Breaking Bonaduce

premiering Sunday at 10:30 p.m.

In

Brady

, Lovebirds Christopher Knight and Adrianne Curry first met on VH1's The Surreal Life 4. Now, a year later the two are living together and the twice married Chris is having commitment issues. Adrianne, on the other hand, is ready to start a family and gives Chris and ultimatum...either step up or I'm moving out. And in Bonaduce,
America remembers Danny Bonaduce as the cute but spunky Danny Partridge in the 1970's classic series

The Partridge

Family

. Since then however, this former child star has lived a life filled with dichotomy as the hard partying "bad guy" while also trying to remain a loving family man.
Posted by

Pavan -- SitcomsOnline.com
at 7:59 PM


---
New on DVD/Blu-ray (January/February)
01/03 - Girls - The Complete Fifth Season (Blu-ray)
01/10 - Broad City - Season 3
01/17 - I Love Lucy - Superstar Special #2 (Colorized)
01/17 - The Love Boat - Season Three - Volume One
01/17 - The Love Boat - Season Three - Volume Two
01/24 - Hooperman - Season One / Review
01/24 - Hooperman - Season Two / Review
01/31 - Ballers - The Complete Second Season (Blu-ray)
02/07 - Sabrina, the Teenage Witch - Sabrina Down Under
02/07 - So Little Time - Volume 1 - School's Cool - Boy Crazy
02/07 - So Little Time - Volume 2 - About a Family - Hangin' Out
02/07 - 227 - The Complete First Season (Mill Creek)
02/07 - Vice Principals - The Complete First Season (Blu-ray)
02/14 - Beavis and Butt-Head - The Complete Collection
02/14 - Grace and Frankie - Season Two
02/28 - Fuller House - The Complete First Season
More TV DVD Releases / DVD Reviews Archive / SitcomsOnline Digest
---
Sitcoms Airing Tonight
Friday, February 24
Last Man Standing - "Take Me to Church" (ABC, 8:00PM ET/PT)
Mike and Vanessa become increasingly worried their daughters don't attend church anymore, so they decide to take it upon themselves to make church more interesting for everyone involved. When Ryan has Kyle as his guest on his podcast, they don't expect their wives to hear their conversation.
Dr. Ken - "Allison Finds a Lump" (ABC, 8:30PM ET/PT)
During a self-exam, Allison finds a suspicious lump in her breast, causing Ken and the HMO gang to rally around her for support while she anxiously waits for the doctor's diagnosis. Meanwhile, Dave has questions for how he will portray the character he's playing in the school play, and Pat and Damona share an unexpected moment.
Stuck in the Middle - "Stuck in a Slushy War" (Disney Channel, 8:00PM ET/PT)
A slushy war breaks out when Harley's Slushy Shack faces new competition.
---
Sitcom Stars on Talk Shows (Week of February 20)
Friday, February 24

Nathan Lane (Modern Family/Charlie Lawrence/Encore! Encore!) - Watch Nathan on Jimmy Kimmel Live! at 11:35pm on ABC.
Allison Williams (Girls) - Allison visits The Late Show with Stephen Colbert at 11:35pm on CBS.
Zosia Mamet (Girls) - Zosia is a guest on a repeat of Late Night with Seth Meyers at 12:36am on NBC.
Woody Harrelson (Cheers) - Woody appears on a repeat of The Late Late Show with James Corden at 12:37am on CBS.
Johnny Galecki (The Big Bang Theory/Roseanne) - Johnny is a guest on Last Call with Carson Daly at 1:35am on NBC.
Malin Akerman (Trophy Wife/Sin City Saints) - Malin stops by Harry, so check your local listings.
Hayley Orrantia (The Goldbergs) - Hayley gives a musical performance on Home & Family on Hallmark Channel at 10am ET/PT.
Bradley Whitford (Trophy Wife) - Bradley joins the Chew Crew on ABC's The Chew at 1pm ET/12pm PT/CT.
Craig Robinson (The Office/Mr. Robinson) - Craig is a guest on The Talk on CBS at 2pm ET/1pm CT-PT.
Kenan Thompson (Kenan & Kel) - Kenan appears on Steve Harvey, so check your local listings.
Jerry O'Connell (We Are Men/Carpoolers/My Secret Identity) - Jerry guest co-hosts LIVE! with Kelly, so check your listings.
---