Wednesday, September 07, 2005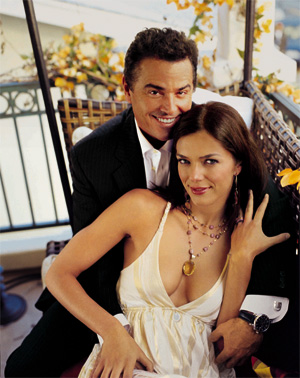 We are still waiting if there will be a Bob Denver tribute event on TV Land. If we don't hear anything by tomorrow, I'd say the answer is no. So keep checking back here often to see if there is an update. As of now, GSN is the only network doing one.
Today we have a lot of little television news to tell you. You might have heard some or all of these, but I feel they are noteworthy. Sitcom stars Todd Bridges (
Diff'rent Strokes
) and Dave Couiler (
Full House
) will be skating this fall on FOX on the reality show Skating with Celebrities. Read the press release
here
. This year's
Emmy Awards
, which are airing on Sunday, September 18 on CBS, will have stars of television sing classic television themes. I guess they watched the
TV Land Awards
and liked that idea. The stars include
Kristen Bell (

Veronica Mars

) singing the theme for

Fame

,
William Shatner (

Boston Legal

) and opera mezzo von Stade will sing the

Star Trek

theme,
Megan Mullally (

Will & Grace

) and Donald Trump (

The Apprentice

) with the

Green Acres

tune
,
and Gary Dourdan (

CSI: Crime Scene Investigation

) and R&B artist Macy Gray will sing the popular

The Jeffersons

theme.


And VH1 will relive two 1970's sitcom stars for two new shows. Christopher Knight (Peter from

The Brady Bunch

) and Danny Bonaduce (

The Partridge Family

) will headline their own shows. Knight will star in

My Fair Brady

, premiering Sunday at 9:30 p.m. Bonaduce will star in

Breaking Bonaduce

premiering Sunday at 10:30 p.m.

In

Brady

, Lovebirds Christopher Knight and Adrianne Curry first met on VH1's The Surreal Life 4. Now, a year later the two are living together and the twice married Chris is having commitment issues. Adrianne, on the other hand, is ready to start a family and gives Chris and ultimatum...either step up or I'm moving out. And in Bonaduce,
America remembers Danny Bonaduce as the cute but spunky Danny Partridge in the 1970's classic series

The Partridge

Family

. Since then however, this former child star has lived a life filled with dichotomy as the hard partying "bad guy" while also trying to remain a loving family man.
Posted by

Pavan -- SitcomsOnline.com
at 7:59 PM


---
New on DVD/Blu-ray (October/November/December)
10/07 - The Dick Van Dyke Show - Classic Christmas Episodes
10/07 - The Flying Nun - The Complete First and Second Seasons (Mill Creek)
10/07 - The Middle - The Complete Fifth Season (Warner Archive)
10/07 - The Office - The Complete Series
10/07 - The Wonders Years - Season One
10/10 - The Wonder Years - The Complete Series - Read Our Review / The Signature Edition / Seasons 1-3
10/14 - 2 Broke Girls - The Complete Third Season
10/14 - Two and a Half Men - The Complete Eleventh Season
10/21 - Married with Children - Seasons 5 and 6 (Mill Crek)
10/21 - The Soul Man - The Complete Second Season
10/21 - Square Pegs - The Complete Series (Mill Creek)
10/28 - WKRP in Cincinnati - The Complete Series / Read Our Review
11/04 - The Exes - Seasons 1 & 2
11/04 - Hot in Cleveland - Season Five
11/04 - Napoleon Dynamite - The Complete Animated Series
11/04 - Sgt. Bilko (The Phil Silvers Show) - The Complete Series / Read Our Review
11/06 - Kenan & Kel - The Best of Seasons 3 & 4
11/11 - Dads - The Complete Series
11/11 - Dharma & Greg - The Complete Season 2
11/11 - Family Ties - The Complete Series
11/11 - My Favorite Martian - Best of Collection
11/11 - Taxi - The Complete Series
11/11 - Wings - The Complete Series (Mill Creek)
11/18 - King of the Hill - The Complete Seventh Season / The Complete Eighth Season
11/25 - Better Off Ted - The Complete Second Season
12/02 - Broad City - Season 1
12/02 - Happy Days - The Sixth Season
12/02 - The Simpsons - The Seventeenth Season (Blu-ray)
12/09 - Barney Miller - The Complete Sixth Season
12/09 - Family Guy - Volume 13
12/09 - The Jeffersons - The Complete Series
12/09 - Mister Ed - The Complete Series
12/09 - Mork & Mindy - The Fourth Season / The Complete Series
12/16 - The Many Loves of Dobie Gillis - The Final (Fourth) Season
12/23 - My Favorite Martian - Season Two - Collector's Edition
More TV DVD Releases / DVD Reviews Archive / SitcomsOnline Digest
---
Sitcoms Airing Tonight
Sunday, December 21
Mulaney - "It's a Wonderful Home Alone" (Fox, 7:00PM ET/PT)
John's resentment of actor Macaulay Calkin dampens his Christmas spirit. Meanwhile, Lou is worried when his rival, network host Jesse Tyler Munoz (guest star Nick Kroll), announces a competing holiday special, and Andre is mistaken for a puppet.
Bob's Burgers - "Father of the Bob" (Fox, 7:30PM ET/PT) (Repeat)
The family is invited to Bob's dad's Christmas party, and Bob is forced to step inside his father's diner for the first time in 20 years. In the basement, the kids compete for a "mistle-tony" – the award for best homemade gift.
The Simpsons - "I Won't Be Home for Christmas" (Fox, 8:00PM ET/PT) (Repeat)
After Moe convinces Homer to stay out drinking on Christmas Eve, Marge tells Homer not to come home. This leads to Homer's sad trek through lonely Springfield, where he learns that the only place where one should truly get drunk on Christmas is home.
Brooklyn Nine-Nine - "Christmas" (Fox, 8:30PM ET/PT) (Repeat)
Holt receives death threats and Jake is put in charge of his security, a job he enjoys and abuses as much as he can. Meanwhile, Amy attempts to get the precinct to take a Christmas photo for Holt, but a lack of enthusiasm and Rosa's refusal to smile defeats her efforts. Also, Terry gets his mojo back.
Family Guy - "The 2,000-Year-Old-Virgin" (Fox, 9:00PM ET/PT) (Repeat)
After running into Jesus at the mall, Peter enlists Quagmire and Cleveland's help to throw him the best birthday ever, but is shocked at Jesus' request to make the night special.
Bob's Burgers - "Christmas in the Car" (Fox, 9:30PM ET/PT) (Repeat)
After Linda accidentally kills the family tree, the Belchers must go out on Christmas day to find a new one. But when Bob cuts off a giant candy cane truck, they are forced to outrun the madman driver (Bobcat Goldthwait) and spend the entire holiday together in the car. Back at the Belcher home, Bob's friend, Teddy, accidentally gets stuck in the kids' Santa trap.
---
Sitcom Stars on Talk Shows (Week of December 22) (All times ET unless noted)
Monday, December 22

Steve Carell (The Office) - Watch Steve on a repeat of The Late Show with David Letterman at 11:35pm on CBS.
Martin Short (Mulaney/The Martin Short Show) - Martin appears on a repeat of Conan at 11pm on TBS.
Kelly Ripa (Hope & Faith) - Kelly stops by Watch What Happens: Live at 11pm on Bravo.
Christine Baranski (Cybill/Welcome to New York) - Christine talks about Into the Woods on ABC's Good Morning America sometime between 7-9am. She will also be on LIVE! with Kelly and Michael, so check your listings.
Jamie Foxx (The Jamie Foxx Show) - Jamie is a guest on a repeat of The Queen Latifah Show on your local station or at 3am on BET.
Donald Faison (The Exes/Scrubs) - Donald drops by The Better Show, so check your local listings.
---