Wednesday, September 07, 2005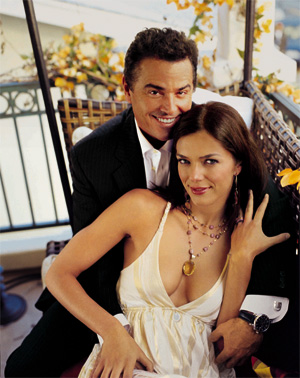 We are still waiting if there will be a Bob Denver tribute event on TV Land. If we don't hear anything by tomorrow, I'd say the answer is no. So keep checking back here often to see if there is an update. As of now, GSN is the only network doing one.
Today we have a lot of little television news to tell you. You might have heard some or all of these, but I feel they are noteworthy. Sitcom stars Todd Bridges (
Diff'rent Strokes
) and Dave Couiler (
Full House
) will be skating this fall on FOX on the reality show Skating with Celebrities. Read the press release
here
. This year's
Emmy Awards
, which are airing on Sunday, September 18 on CBS, will have stars of television sing classic television themes. I guess they watched the
TV Land Awards
and liked that idea. The stars include
Kristen Bell (

Veronica Mars

) singing the theme for

Fame

,
William Shatner (

Boston Legal

) and opera mezzo von Stade will sing the

Star Trek

theme,
Megan Mullally (

Will & Grace

) and Donald Trump (

The Apprentice

) with the

Green Acres

tune
,
and Gary Dourdan (

CSI: Crime Scene Investigation

) and R&B artist Macy Gray will sing the popular

The Jeffersons

theme.


And VH1 will relive two 1970's sitcom stars for two new shows. Christopher Knight (Peter from

The Brady Bunch

) and Danny Bonaduce (

The Partridge Family

) will headline their own shows. Knight will star in

My Fair Brady

, premiering Sunday at 9:30 p.m. Bonaduce will star in

Breaking Bonaduce

premiering Sunday at 10:30 p.m.

In

Brady

, Lovebirds Christopher Knight and Adrianne Curry first met on VH1's The Surreal Life 4. Now, a year later the two are living together and the twice married Chris is having commitment issues. Adrianne, on the other hand, is ready to start a family and gives Chris and ultimatum...either step up or I'm moving out. And in Bonaduce,
America remembers Danny Bonaduce as the cute but spunky Danny Partridge in the 1970's classic series

The Partridge

Family

. Since then however, this former child star has lived a life filled with dichotomy as the hard partying "bad guy" while also trying to remain a loving family man.
Posted by

Pavan -- SitcomsOnline.com
at 7:59 PM


---
New on DVD/Blu-ray (March)
03/03 - CHiPs - The Complete Third Season
03/10 - Gomer Pyle, U.S.M.C. - The Complete Series
03/10 - Hey Dude - The Complete Series (Walmart Exclusive)
03/10 - Petticoat Junction - Family Favorite Episodes
03/17 - Bewitched - Season 5 (Mill Creek)
03/17 - Bewitched - Season 6 (Mill Creek)
03/17 - Bewitched - Seasons 5 & 6 (Mill Creek)
03/17 - Maude - The Complete Series (Shout! Factory)
03/17 - WKRP in Cincinnati - The Complete First Season (Shout! Factory)
03/17 - WKRP in Cincinnati - The Complete Second Season (Shout! Factory)
03/24 - The Donna Reed Show - Season 2 (MPI Home Video)
03/31 - Silicon Valley - Season 1 (Blu-ray)
03/31 - Veep - The Complete Third Season (Blu-ray)
More TV DVD Releases / DVD Reviews Archive / SitcomsOnline Digest
---
Sitcoms Airing Tonight
Wednesday, April 1
The Middle - "Operation Infiltration" (ABC, 8:00PM ET/PT)
Frankie accompanies Brick on a school field trip and attempts to help her socially inept son make friends with a couple of boys. Meanwhile, when Devin scolds Axl for being mean to his sister, he tries to make it look like they are the best of friends when Sue spends the weekend at his house; and while trying to thin out some of their hoarding father's massive stockpile of junk, Mike gets a sinking feeling that he may have bullied his brother Rusty (Norm Macdonald) a bit too much as kids and turned him into the hapless man that he is today.
The Goldbergs - "The Adam Bomb" (ABC, 8:30PM ET/PT)
When Erica gets inspired to put college on hold, in favor of pursuing a singing career, Beverly is worried Erica will be disappointed her dream will not come true. Beverly puts Murray up to the task to have a talk about her future with a surprising result. Meanwhile, Adam and Barry get into an epic war that starts as an April Fools' joke but ends with more repercussion.
Modern Family - "Grill, Interrupted" (ABC, 9:00PM ET/PT)
Jay's birthday brings everyone together and Phil is beside himself over the super cool gift he got Jay, a high-tech outdoor grill. Claire and Mitch decide they will "offer" to pay back the money Jay loaned them ages ago as their gift not really thinking he will take them up on it, and Gloria teaches Manny and Luke a lesson about drinking, while Andy gets real awkward with Haley when she brings over her new doctor boyfriend.
black-ish - "Sex, Lies and Vasectomies" (ABC, 9:30PM ET/PT)
Bow learns from her colleague that Dre never had the vasectomy a few years back that he was supposedly scheduled, so she decides to see if he'll come clean and tell the truth.
Young & Hungry - "Young & Cookin'" (ABC Family, 8:00PM ET/PT)
Gabi fears for her job when Josh begins dating a woman who loves to cook.
Hot in Cleveland - "All Dolled Up" (TV Land, 10:00PM ET/PT)
Elka is convinced that Bob's gift to Joy is a voodoo doll. Melanie accidentally doses her boyfriend, Dane (William Baldwin) with estrogen. Victoria gets a visit from her agent (Garry Marshall).
The Soul Man - "Shopping While Black" (TV Land, 10:30PM ET/PT)
When Lolli is wrongfully accused of shoplifting at a posh department store, Boyce rallies the community for a protest. Stamps turns to Lester to help him get rid of his cupcake truck.
---
Sitcom Stars on Talk Shows (Week of March 30) (All times ET unless noted)
Wednesday, April 1

Jeremy Piven (Entourage/Ellen) - Watch Jeremy on The Late Late Show with James Corden at 12:37am on CBS. He talks about what it was like to reunite with his Entourage co-stars to make the highly anticipated movie, dating in Hollywood and more on The Merdith Vieira Show, so check your local listings.
Kevin Hart (The Big House/Undeclared) - Kevin appears on a repeat of Comedy Central's The Daily Show with Jon Stewart at 11pm.
Natasha Leggero (Free Agents) - Natasha is a guest on a repeat of @midnight on Comedy Central at midnight.
Peter Facinelli (Nurse Jackie) - Peter stops by Last Call with Carson Daly at 1:35am on NBC. He also talks about American Odyssey on VH1's Big Morning Buzz Live at 9am and New York Live on WNBC in New York at 12:30pm ET..
Maz Jobrani (Better Off Ted/The Knights of Prosperity) - Maz is a guest on Last Call with Carson Daly at 1:35am on NBC.
Rob Corddry (The Winner) - Rob visits Conan at 11pm on TBS.
Brooke Shields (Suddenly Susan) - Brooke appears on a repeat of The Queen Latifah Show on your local station or at 1am on BET.
Zachary Knighton (Weird Loners/Happy Endings) - Zachary talks about Weird Loners on Home & Family on Hallmark Channel at 10am ET/PT.
Robyn Lively (George & Leo/Doogie Howser, M.D.) - Robyn and Sloane Morgan Siegel talk about their critically acclaimed series Gortimer Gibbon's Life on Normal Street on Home & Family on Hallmark Channel at 10am ET/PT.
Chris Messina (The Mindy Project) - Chris discusses his directorial debut and starring role in Alex of Venice, a drama about a woman who's forced to revaluate her life and career after her husband suddenly leaves her, on HuffPost Live at 11:30am.
---