Wednesday, September 07, 2005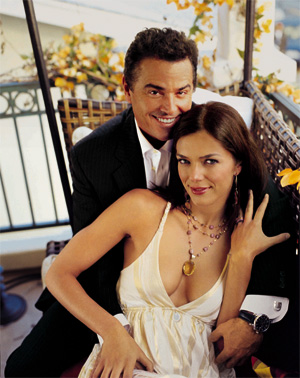 We are still waiting if there will be a Bob Denver tribute event on TV Land. If we don't hear anything by tomorrow, I'd say the answer is no. So keep checking back here often to see if there is an update. As of now, GSN is the only network doing one.
Today we have a lot of little television news to tell you. You might have heard some or all of these, but I feel they are noteworthy. Sitcom stars Todd Bridges (
Diff'rent Strokes
) and Dave Couiler (
Full House
) will be skating this fall on FOX on the reality show Skating with Celebrities. Read the press release
here
. This year's
Emmy Awards
, which are airing on Sunday, September 18 on CBS, will have stars of television sing classic television themes. I guess they watched the
TV Land Awards
and liked that idea. The stars include
Kristen Bell (

Veronica Mars

) singing the theme for

Fame

,
William Shatner (

Boston Legal

) and opera mezzo von Stade will sing the

Star Trek

theme,
Megan Mullally (

Will & Grace

) and Donald Trump (

The Apprentice

) with the

Green Acres

tune
,
and Gary Dourdan (

CSI: Crime Scene Investigation

) and R&B artist Macy Gray will sing the popular

The Jeffersons

theme.


And VH1 will relive two 1970's sitcom stars for two new shows. Christopher Knight (Peter from

The Brady Bunch

) and Danny Bonaduce (

The Partridge Family

) will headline their own shows. Knight will star in

My Fair Brady

, premiering Sunday at 9:30 p.m. Bonaduce will star in

Breaking Bonaduce

premiering Sunday at 10:30 p.m.

In

Brady

, Lovebirds Christopher Knight and Adrianne Curry first met on VH1's The Surreal Life 4. Now, a year later the two are living together and the twice married Chris is having commitment issues. Adrianne, on the other hand, is ready to start a family and gives Chris and ultimatum...either step up or I'm moving out. And in Bonaduce,
America remembers Danny Bonaduce as the cute but spunky Danny Partridge in the 1970's classic series

The Partridge

Family

. Since then however, this former child star has lived a life filled with dichotomy as the hard partying "bad guy" while also trying to remain a loving family man.
Posted by

Pavan -- SitcomsOnline.com
at 7:59 PM


Sitcoms Airing Tonight (Wednesday, April 16)
The Middle - "Vacation Days" (ABC, 8:00PM ET/PT) (Repeat)
After being forced by his work to take a paid vacation, Mike tries to relax but finds his alone time being invaded by Brick, who wants to cash in and implement all of the personal gift coupons he has given his dad for Father's Day and birthdays over the years. Meanwhile, Frankie is livid when she discovers that Axl has been hanging out at the Donahues for the past few days and didn't let her know that he was even in town, and Sue is horrified when she discovers that someone has given her service at Spudsy Malone's a bad review online and overreacts in her efforts to better please the customers.
Suburgatory - "Blame it on the Rainstick" (ABC, 8:30PM/ET) (Repeat)
When Noah is released from a court mandated anger management program, George is shocked to find a docile Noah has replaced his former hot-headed friend. Shaken by the change, George decides to put the new Noah to the test. Meanwhile, Tessa ditches "senior tanning" and meets a cool new age band hanging out at the park. The free spirited music group isn't exactly what they appear.
Modern Family - "The Big Game" (ABC, 9:00PM ET/PT) (Repeat)
With a big football game coming up and a record to break, Coach Cam is intensely focused and showing no mercy even when the opposing team is playing with an unexpected disadvantage. Elsewhere, Claire is determined to prove to the staff that she is more than just the boss's daughter, and Phil tries to teach his kids a lesson about optimism, but the universe just isn't cooperating.
Mixology - "Jessica & Ron" (ABC, 9:30PM ET/PT)
Jessica regrets sending a naked photo to Ron and sets out to get him to delete it after realizing she barely knows him. Meanwhile, Liv complicates things between Jessica and Ron and Maya hits it off with an attractive guy who gives her an offer she can't refuse…or can she? And the chance to hook up is in Bruce's favor when he meets a woman who is into red-heads, but things quickly begin to look grim when a famous red-head also enters the bar.
Melissa & Joey - "Born to Run" (ABC Family, 8:00PM ET/PT)
Mel's father sends out a racy photograph; Ryder tries to come up with a winning business idea.
Baby Daddy - "Play It Again, Bonnie" (ABC Family, 8:30PM ET/PT)
Bonnie asks Tucker for help in reconnecting with her former boyfriend.
Hot in Cleveland - "The Undead" (TV Land, 10:00PM ET/PT)
Elka (Betty White) throws a fake funeral for Victoria so she can join her husband in hiding. Her nemesis, Susan Lucci attends. Simon (Craig Ferguson) and Joy face a dilemma in their relationship.
Guest Stars: Craig Ferguson, Susan Lucci, Matt Iseman, David Cheaney, Laird MacIntosh
The Soul Man - "Oh My Goddy" (TV Land, 11:00PM ET/PT)
Boyce feels the pressure when he's nominated for a big award. So he goes above and beyond to brand himself as the "Second Chance Preacher."
Tyler Perry's For Better or Worse - "Reunited" (OWN, 9:00PM ET/PT)
Joseph and Leslie work on their relationship.
---
Sitcom Stars on Talk Shows (Week of April 14) (All times Eastern unless noted)
Wednesday, April 16

Kunal Nayyar (The Big Bang Theory) - Watch Kunal on The Late Late Show with Craig Ferguson at 12:37am on CBS.
Denis Leary (The Job) - Denis appears on a repeat of Comedy Central's The Daily Show with Jon Stewart at 11pm.
Whitney Cummings (Whitney) - Whitney is part of the guest panel on Chelsea Lately on E! at 11pm.
Tracy Morgan (30 Rock/The Tracy Morgan Show) - Tracy visits Watch What Happens: Live at 11pm on Bravo.
Adam Scott (Parks and Recreation) - Adam appears on The Pete Holmes Show at midnight on TBS.
Whoopi Goldberg (Whoopi/Bagdad Cafe) - Whoopi previews her new Lifetime movie A Day Late and a Dollar Short on LIVE! with Kelly and Michael, so check your listings.
Billy Crystal (Soap) - Billy stops by The Ellen DeGeneres Show, so check your local listings.
Kristin Chenoweth (Kristin) - Kristin talks about new animated movie Rio 2 and her upcoming show at Carnegie Hall on The Wendy Williams Show at 12am on BET or on your local stations.
Alan Thicke (Growing Pains) - Alan talks about his TV and music career, his son Robin and new reality series, Unusually Thicke, on Katie, so check your local listings. He will also be on The Couch on WLNY 10/55 in New York between 7-9am. Finally, he is a guest on Big Morning Buzz Live on VH1 at 10am.
Judy Greer (Mad Love/Arrested Development/Miss Guided) - Judy takes us on a trip to her happy place...the drugstore on Rachael Ray, so check your local listings.
Tasha Smith (Tyler Perry's For Better or Worse/The Tom Show/Boston Common) and Michael Jai White (Tyler Perry's For Better or Worse) - Tasha and Jai are guests on Access Hollywood Live, so check your local listings.
Marlon Wayans (The Wayans Bros.) - Marlon stops by Conan at 11pm on TBS. He will also be on Steve Harvey, so check your local listings.
Christopher Meloni (Surviving Jack/The Fanelli Boys) - Christopher is a guest on NBC's Today in the 9am hour. He will also be on New York Live on WNBC in New York at 12:30pm ET.
Valerie Harper (Rhoda/The Mary Tyler Moore Show/Valerie) - Valerie talks about Signed, Sealed, Delivered (premieres April 20 on Hallmark Channel) on NBC's Today in the 10am hour. She will also be on New York Live on WNBC in New York at 12:30pm ET. She is a guest on Howard Stern.
Jaime Pressly (My Name Is Earl/I Hate My Teenage Daughter) - Jaime appears on The Queen Latifah Show, so check your local listings.
Seth Green (Dads/Greg the Bunny) - Seth is a guest on a repeat of @midnight at 12am on Comedy Central.
---