Wednesday, September 07, 2005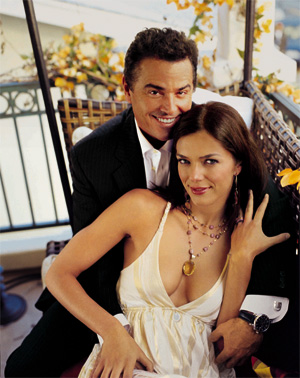 We are still waiting if there will be a Bob Denver tribute event on TV Land. If we don't hear anything by tomorrow, I'd say the answer is no. So keep checking back here often to see if there is an update. As of now, GSN is the only network doing one.
Today we have a lot of little television news to tell you. You might have heard some or all of these, but I feel they are noteworthy. Sitcom stars Todd Bridges (
Diff'rent Strokes
) and Dave Couiler (
Full House
) will be skating this fall on FOX on the reality show Skating with Celebrities. Read the press release
here
. This year's
Emmy Awards
, which are airing on Sunday, September 18 on CBS, will have stars of television sing classic television themes. I guess they watched the
TV Land Awards
and liked that idea. The stars include
Kristen Bell (

Veronica Mars

) singing the theme for

Fame

,
William Shatner (

Boston Legal

) and opera mezzo von Stade will sing the

Star Trek

theme,
Megan Mullally (

Will & Grace

) and Donald Trump (

The Apprentice

) with the

Green Acres

tune
,
and Gary Dourdan (

CSI: Crime Scene Investigation

) and R&B artist Macy Gray will sing the popular

The Jeffersons

theme.


And VH1 will relive two 1970's sitcom stars for two new shows. Christopher Knight (Peter from

The Brady Bunch

) and Danny Bonaduce (

The Partridge Family

) will headline their own shows. Knight will star in

My Fair Brady

, premiering Sunday at 9:30 p.m. Bonaduce will star in

Breaking Bonaduce

premiering Sunday at 10:30 p.m.

In

Brady

, Lovebirds Christopher Knight and Adrianne Curry first met on VH1's The Surreal Life 4. Now, a year later the two are living together and the twice married Chris is having commitment issues. Adrianne, on the other hand, is ready to start a family and gives Chris and ultimatum...either step up or I'm moving out. And in Bonaduce,
America remembers Danny Bonaduce as the cute but spunky Danny Partridge in the 1970's classic series

The Partridge

Family

. Since then however, this former child star has lived a life filled with dichotomy as the hard partying "bad guy" while also trying to remain a loving family man.
Posted by

Pavan -- SitcomsOnline.com
at 7:59 PM


---
New on DVD/Blu-ray (October/November/December)
10/07 - The Dick Van Dyke Show - Classic Christmas Episodes
10/07 - The Flying Nun - The Complete First and Second Seasons (Mill Creek)
10/07 - The Middle - The Complete Fifth Season (Warner Archive)
10/07 - The Office - The Complete Series
10/07 - The Wonders Years - Season One
10/10 - The Wonder Years - The Complete Series - Read Our Review / The Signature Edition / Seasons 1-3
10/14 - 2 Broke Girls - The Complete Third Season
10/14 - Two and a Half Men - The Complete Eleventh Season
10/21 - Married with Children - Seasons 5 and 6 (Mill Crek)
10/21 - The Soul Man - The Complete Second Season
10/21 - Square Pegs - The Complete Series (Mill Creek)
10/28 - WKRP in Cincinnati - The Complete Series
11/04 - Hot in Cleveland - Season Five
11/04 - Napoleon Dynamite - The Complete Animated Series
11/04 - Sgt. Bilko (The Phil Silvers Show) - The Complete Series
11/11 - Dads - The Complete Series
11/11 - Family Ties - The Complete Series
11/11 - My Favorite Martian - Best of Collection
11/11 - Taxi - The Complete Series
11/11 - Wings - The Complete Series (Mill Creek)
11/18 - King of the Hill - The Complete Seventh Season / The Complete Eighth Season
11/25 - Better Off Ted - The Complete Second Season
12/02 - Happy Days - The Sixth Season
12/09 - Barney Miller - The Complete Sixth Season
12/09 - The Jeffersons - The Complete Series
12/09 - Mister Ed - The Complete Series
12/09 - Mork & Mindy - The Fourth Season / The Complete Series
12/16 - The Many Loves of Dobie Gillis - The Final (Fourth) Season
12/23 - My Favorite Martian - Season Two - Collector's Edition
More TV DVD Releases / DVD Reviews Archive / SitcomsOnline Digest
---
Sitcoms Airing Tonight
Friday, October 31
Last Man Standing - "Mike Advises Mandy" (ABC, 8:00PM ET/PT)
Mike offers Mandy advice on how to set aside money to pay the taxes on her struggling online clothing business. But she decides to do it her way – by opening up a pop up store at Bud's Buds.
Cristela - "Hall-Oates-Ween" (ABC, 8:30PM ET/PT)
It's Halloween and Cristela is eager to show Trent her "party-whispering" skills to make this year's party a success. After failing to convince Josh, Cristela gets Maddie to join her in dressing up as Hall & Oates. Meanwhile at home, Natalia's dislike for Halloween has her celebrating the Day of the Dead instead and, ironically, her stories of deceased relatives makes her the most popular Halloween attraction in the neighborhood.
---
Sitcom Stars on Talk Shows (Week of October 27) (All times ET unless noted)
Friday, October 31

Andy Samberg (Brooklyn Nine-Nine) - Watch Andy on Jimmy Kimmel Live! at 11:35pm on ABC.
Olivia Munn (Perfect Couples) - Olivia visits The Tonight Show Starring Jimmy Fallon at 11:34pm on NBC.
Ted Danson (Cheers/Becker) - Catch Ted on The Late Late Show with Craig Ferguson at 12:37am on CBS.
J.K. Simmons (Growing Up Fisher) - J.K. appears on a repeat of Last Call with Carson Daly at 1:35am on NBC.
Ana Gasteyer (Suburgatory) - Ana is a guest on The Talk on CBS at 2pm ET/1pm CT-PT.
Leah Remini (The Exes/The Family Tools/The King of Queens) - Leah appears on The Queen Latifah Show on your local station or at 2am on BET.
Niecy Nash (The Soul Man/Getting On/Reno 911!) - Niecy tells how to look younger on The Dr. Oz Show, so check your local listings.
Jim Gaffigan (My Boys/Welcome to New York) - Tune in to see if Jim and Rach can survive New York's scariest house on Rachael Ray, so check your local listings.
Ken Marino (Marry Me/Party Down) - Ken will be on New York Live on WNBC in New York at 12:30pm ET.
---