Wednesday, September 07, 2005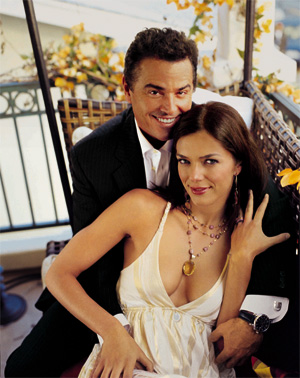 We are still waiting if there will be a Bob Denver tribute event on TV Land. If we don't hear anything by tomorrow, I'd say the answer is no. So keep checking back here often to see if there is an update. As of now, GSN is the only network doing one.
Today we have a lot of little television news to tell you. You might have heard some or all of these, but I feel they are noteworthy. Sitcom stars Todd Bridges (
Diff'rent Strokes
) and Dave Couiler (
Full House
) will be skating this fall on FOX on the reality show Skating with Celebrities. Read the press release
here
. This year's
Emmy Awards
, which are airing on Sunday, September 18 on CBS, will have stars of television sing classic television themes. I guess they watched the
TV Land Awards
and liked that idea. The stars include
Kristen Bell (

Veronica Mars

) singing the theme for

Fame

,
William Shatner (

Boston Legal

) and opera mezzo von Stade will sing the

Star Trek

theme,
Megan Mullally (

Will & Grace

) and Donald Trump (

The Apprentice

) with the

Green Acres

tune
,
and Gary Dourdan (

CSI: Crime Scene Investigation

) and R&B artist Macy Gray will sing the popular

The Jeffersons

theme.


And VH1 will relive two 1970's sitcom stars for two new shows. Christopher Knight (Peter from

The Brady Bunch

) and Danny Bonaduce (

The Partridge Family

) will headline their own shows. Knight will star in

My Fair Brady

, premiering Sunday at 9:30 p.m. Bonaduce will star in

Breaking Bonaduce

premiering Sunday at 10:30 p.m.

In

Brady

, Lovebirds Christopher Knight and Adrianne Curry first met on VH1's The Surreal Life 4. Now, a year later the two are living together and the twice married Chris is having commitment issues. Adrianne, on the other hand, is ready to start a family and gives Chris and ultimatum...either step up or I'm moving out. And in Bonaduce,
America remembers Danny Bonaduce as the cute but spunky Danny Partridge in the 1970's classic series

The Partridge

Family

. Since then however, this former child star has lived a life filled with dichotomy as the hard partying "bad guy" while also trying to remain a loving family man.
Posted by

Pavan -- SitcomsOnline.com
at 7:59 PM


---
Sitcoms Airing Tonight
Monday, September 1
The Big Bang Theory - "The Mommy Observation" (CBS, 8:00PM ET/PT) (Repeat)
When Sheldon visits his Mom in Houston, he is forced to confront a new reality. Meanwhile, Raj's "Murder Mystery" party starts some fights within the gang.
Mike & Molly - "Mike & Molly's Excellent Adventure" (CBS, 9:00PM ET/PT) (Repeat)
Molly is determined to get Mike out of his routine and tells him to embrace doing anything they want in life.
Two and a Half Men - "Baseball. Boobs. Boobs. Baseball" (CBS, 9:30PM ET/PT) (Repeat)
Alan lets Lyndsey's boyfriend Larry set him up on a date. Meanwhile, Walden offers to help Nicole with her software project so she'll have time to date him. Marion Ross makes a special appearance. Jeff Probst returns for a second special appearance.
Partners - "Doug Day Afternoon" (FX, 9:00PM ET/PT)
When Marcus hires a former client and recently paroled ex-convict to work in the office, Allen suspects the once-criminal to have ulterior motives.
Partners - "How to Get a Head in Advertising" (FX, 9:30PM ET/PT)
When Allen and Marcus decide to make a commercial for their practice, Allen's inflated ego takes the helm and creates a disaster.
Anger Management - "Charlie and the Temper of Doom" (FX, 10:00PM ET/PT)
Charlie struggles to control his anger after meeting a hot girl who doesn't date angry guys.
Anger Management - "Charlie Gets Trashed" (FX, 10:30PM ET/PT)
Charlie goes to war with his garbage man.
---
Sitcom Stars on Talk Shows (Week of September 1) (All times ET unless noted)
Monday, September 1

Jennifer Aniston (Friends) - Watch Jennifer on a repeat of Jimmy Kimmel Live! at 11:35pm on ABC. There's a Friends reunion with Courteney Cox and Lisa Kudrow.
Joseph Gordon-Levitt (3rd Rock from the Sun) - Joseph is a guest on a repeat of The Late Show with David Letterman at 11:35pm on CBS.
Derek Waters (Married to the Kellys) - Derek appears on a repeat of Late Night with Seth Meyers at 12:36am on NBC.
Judy Greer (Mad Love/Arrested Development/Miss Guided) - Tune in to see Judy on a repeat of Last Call with Carson Daly at 1:35am on NBC.
Kym Whitley (Young & Hungry/Animal Practice/Sparks) - Kym is a guest on a repeat of The Arsenio Hall Show, so check your local listings.
Yvette Nicole Brown (Community) - Yvette guest co-hosts a repeat of ABC's The Chew at 1pm ET/12pm PT/CT.
Drew Carey (The Drew Carey Show/The Good Life) - Drew is a guest on a repeat of @midnight on Comedy Central at midnight.
Patricia Heaton (The Middle/Back to You/Everybody Loves Raymond - Patricia sells a treasure from The Middle on a repeat of Rachael Ray, so check your local listings.
Debi Mazar (Entourage/Working) - Debi and her husband, Gabriele Corcos, share their passion for Tuscan food and each other on a repeat of Katie, so check your local listings.
Jane Leeves (Hot in Cleveland/Frasier/Throb) - Jane appears on a repeat of The Queen Latifah Show on your local station or at 3am on BET.
---