Wednesday, September 07, 2005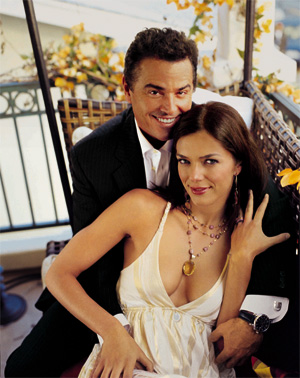 We are still waiting if there will be a Bob Denver tribute event on TV Land. If we don't hear anything by tomorrow, I'd say the answer is no. So keep checking back here often to see if there is an update. As of now, GSN is the only network doing one.
Today we have a lot of little television news to tell you. You might have heard some or all of these, but I feel they are noteworthy. Sitcom stars Todd Bridges (
Diff'rent Strokes
) and Dave Couiler (
Full House
) will be skating this fall on FOX on the reality show Skating with Celebrities. Read the press release
here
. This year's
Emmy Awards
, which are airing on Sunday, September 18 on CBS, will have stars of television sing classic television themes. I guess they watched the
TV Land Awards
and liked that idea. The stars include
Kristen Bell (

Veronica Mars

) singing the theme for

Fame

,
William Shatner (

Boston Legal

) and opera mezzo von Stade will sing the

Star Trek

theme,
Megan Mullally (

Will & Grace

) and Donald Trump (

The Apprentice

) with the

Green Acres

tune
,
and Gary Dourdan (

CSI: Crime Scene Investigation

) and R&B artist Macy Gray will sing the popular

The Jeffersons

theme.


And VH1 will relive two 1970's sitcom stars for two new shows. Christopher Knight (Peter from

The Brady Bunch

) and Danny Bonaduce (

The Partridge Family

) will headline their own shows. Knight will star in

My Fair Brady

, premiering Sunday at 9:30 p.m. Bonaduce will star in

Breaking Bonaduce

premiering Sunday at 10:30 p.m.

In

Brady

, Lovebirds Christopher Knight and Adrianne Curry first met on VH1's The Surreal Life 4. Now, a year later the two are living together and the twice married Chris is having commitment issues. Adrianne, on the other hand, is ready to start a family and gives Chris and ultimatum...either step up or I'm moving out. And in Bonaduce,
America remembers Danny Bonaduce as the cute but spunky Danny Partridge in the 1970's classic series

The Partridge

Family

. Since then however, this former child star has lived a life filled with dichotomy as the hard partying "bad guy" while also trying to remain a loving family man.
Posted by

Pavan -- SitcomsOnline.com
at 7:59 PM


---
New on DVD/Blu-ray (August)
08/04 - The Comeback - The Complete Series
08/04 - I Love Lucy - Ultimate Season 2 (Blu-ray)
08/04 - Sgt. Bilko (The Phil Silvers Show) - Season Three
08/11 - The Jeffersons - Season Eight
08/11 - Maude - The Complete Second Season
08/11 - 2 Broke Girls - The Complete Fourth Season
08/11 - The Jeff Foxworthy Show - The COmplete Series (Mill Creek)
08/18 - Mike & Molly - The Complete Fifth Season
08/18 - Welcome Back, Kotter - The Final (Fourth) Season
08/25 - King of the Hill - The Complete 11th Season
08/25 - The Mindy Project - Season Three
More TV DVD Releases / DVD Reviews Archive / SitcomsOnline Digest
---
Sitcoms Airing Tonight
Tuesday, August 4

The Last Man on Earth - "Alive in Tucson" / "The Elephant in the Room" (Fox, 9:00PM ET/PT) (Repeat)
THE LAST MAN ON EARTH chronicles the life and adventures of an average guy – and humanity's last hope – who discovers what life is like when no one is telling you what you can and cannot do. The year is 2020, and after a deadly virus has swept the planet, only one man is left on earth: Phil Miller (Forte). He used to be just an average guy who loved his family and hated his job. Now, in his RV, Phil searches the country for other survivors. He has traveled to every city, every town and every outpost in the United States, Mexico and Canada, and has found no one. As he returns to his hometown of Tucson, Phil comes to the realization that he is almost certainly the last living being on the face of the earth. Then, Phil meets Carol, who may be the last woman on earth. At the very least, she's the most annoying woman on earth. As Phil arrives at the painful realization that the fate of the world rests with them, Carol demands they wed before repopulating the earth.

Clipped - "The Gambler" (TBS, 10:00PM ET/PT)
When the guys learn that Buzzy is gambling with the money he'd set aside for his mother's medication, A.J. and Mo decide to lose a poker game to him on purpose, but it isn't as easy to convince Ben to do the right thing. Danni, Charmaine, and Joy make up the Doyle Sisters for a wedding and discuss what makes for a strong marriage, which causes Joy questions her relationship with Bart.

Playing House - "Hello, Old Friend" (USA Network, 10:00PM ET/PT) (Season Premiere)
Maggie, Emma and Charlotte pose for an awkward family picture; Bruce and his mother prepare a traditional family recipe.
Playing House - "Sleepless in Pinebrook" (USA Network, 10:30PM ET/PT)
The Property Brothers make over Maggie's body; Emma creates an online dating profile for Maggie; Bruce and Zach spend time with Charlotte.
---
Sitcom Stars on Talk Shows (Week of August 3) (All times ET unless noted)
Tuesday, August 4

Don Rickles (C.P.O. Sharkey/Daddy Dearest) - Catch Mr. Warmth on The Tonight Show Starring Jimmy Fallon at 11:34pm on NBC.
Craig Robinson (Mr. Robinson/The Office) - Craig appears on Late Night with Seth Meyers at 12:36am on NBC, on the AOL Build Show and on SI Now.
Michael Ian Black (The Jim Gaffigan Show/Ed) - Michael is a guest on Late Night with Seth Meyers at 12:36am on NBC.
Josh Charles (Sports Night) - Josh visits The Late Late Show with James Corden at 12:37am on CBS.
Denis Leary (Sex&Drugs&Rock&Roll/The Job) - Denis stops by Comedy Central's The Daily Show with Jon Stewart at 11pm.
Judy Greer (Married/Mad Love/Miss Guided) - Judy appears on Conan at 11pm on TBS.
Ron Funches (Undateable) - Ron is a guest on @midnight on Comedy Central at midnight.
Tom Lennon (The Odd Couple/Sean Saves the World/Reno 911!) - Tom will be on @midnight on Comedy Central at midnight.
Jessica St. Clair (Playing House/Best Friends Forever/In the Motherhood) and Lennon Parham (Playing House/Best Friends Forever/Accidentally on Purpose) - Jessica and Lennon talk about Playing House on NBC's Today in the 10am hour. Jessica will also be on Watch What Happens: Live at 11pm on Bravo.
Jason Segel (How I Met Your Mother) - Jason talks about the film The End of the Hour on NBC's Today sometime between 7-9am and on LIVE! with Kelly and Michael, so check your listings.
Billy Gardell (Mike & Molly) - Billy talks about how he almost walked away from Hollywood before landing the leading role on his hit sitcom and what really happened at his first shoot with co-star Melissa McCarthy on a repeat of The Meredith Vieira Show, so check your local listings.
Christopher Meloni (Surviving Jack/The Fanelli Boys) - Christopher is a guest on a repeat of The Queen Latifah Show, so check your local listings.
Tim Bagley (Mr. Robinson/Web Therapy/Will & Grace) - Tim talks about his new series Mr. Robinson on Home & Family on Hallmark Channel at 10am ET/PT.
Jerrod Carmichael (The Carmichael Show) - Jerrod appears on the AOL Build Show.
Brandy Norwood (The Game/Moesha) - Brandy talks about her incognito NYC subway performance and her exciting new role on Broadway's Chicago on a repeat of Access Hollywood Live, so check your local listings.
David Alan Grier (The Carmichael Show/Life with Bonnie/DAG) - David is a guest on The Talk on CBS at 2pm ET/1pm CT-PT.
Candace Cameron Bure (Fuller House/Full House) - Candace talks about her new book Dancing Through Life: Steps of Courage and Conviction on Fox & Friends on Fox News Channel sometime between 6-9am. She also guest co-hosts The View on ABC at 11am ET/10am CT-PT.
---