Wednesday, September 07, 2005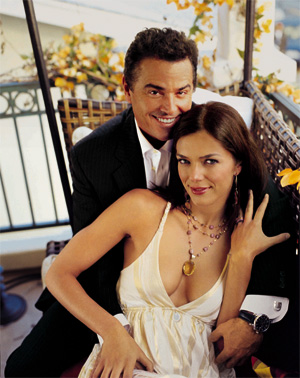 We are still waiting if there will be a Bob Denver tribute event on TV Land. If we don't hear anything by tomorrow, I'd say the answer is no. So keep checking back here often to see if there is an update. As of now, GSN is the only network doing one.
Today we have a lot of little television news to tell you. You might have heard some or all of these, but I feel they are noteworthy. Sitcom stars Todd Bridges (
Diff'rent Strokes
) and Dave Couiler (
Full House
) will be skating this fall on FOX on the reality show Skating with Celebrities. Read the press release
here
. This year's
Emmy Awards
, which are airing on Sunday, September 18 on CBS, will have stars of television sing classic television themes. I guess they watched the
TV Land Awards
and liked that idea. The stars include
Kristen Bell (

Veronica Mars

) singing the theme for

Fame

,
William Shatner (

Boston Legal

) and opera mezzo von Stade will sing the

Star Trek

theme,
Megan Mullally (

Will & Grace

) and Donald Trump (

The Apprentice

) with the

Green Acres

tune
,
and Gary Dourdan (

CSI: Crime Scene Investigation

) and R&B artist Macy Gray will sing the popular

The Jeffersons

theme.


And VH1 will relive two 1970's sitcom stars for two new shows. Christopher Knight (Peter from

The Brady Bunch

) and Danny Bonaduce (

The Partridge Family

) will headline their own shows. Knight will star in

My Fair Brady

, premiering Sunday at 9:30 p.m. Bonaduce will star in

Breaking Bonaduce

premiering Sunday at 10:30 p.m.

In

Brady

, Lovebirds Christopher Knight and Adrianne Curry first met on VH1's The Surreal Life 4. Now, a year later the two are living together and the twice married Chris is having commitment issues. Adrianne, on the other hand, is ready to start a family and gives Chris and ultimatum...either step up or I'm moving out. And in Bonaduce,
America remembers Danny Bonaduce as the cute but spunky Danny Partridge in the 1970's classic series

The Partridge

Family

. Since then however, this former child star has lived a life filled with dichotomy as the hard partying "bad guy" while also trying to remain a loving family man.
Posted by

Pavan -- SitcomsOnline.com
at 7:59 PM


---
New on DVD/Blu-ray (October/November)
10/04 - The Andy Griffith Show - The Christmas Special (Colorized)
10/04 - I Love Lucy - Superstar Special #1 (Colorized)
10/11 - Dr. Ken - Season One
10/11 - Mike & Molly - The Complete Sixth and Final Season
10/11 - Mike & Molly - The Complete Series
10/11 - Nurse Jackie - Seasons One and Two
10/11 - Weeds - Seasons One and Two
11/01 - Schitt's Creek - Seasons One and Two
11/08 - Family Matters - The Complete Ninth Season
11/08 - Your Family or Mine - Season One
11/15 - Community - The Complete Series
11/15 - The Lucy Show - The Complete Series
11/15 - The Mindy Project - Season Four
More TV DVD Releases / DVD Reviews Archive / SitcomsOnline Digest
---
Sitcoms Airing Tonight
Friday, December 9
Last Man Standing - "Help Wanted" (ABC, 8:00PM ET/PT)
Since losing her teaching job, Vanessa has been spending her time hovering over the family, and it's driving everyone nuts. Over at Kristin and Ryan's house, Ryan and Kyle are wrapped-up in a zombie face-off to determine who knows the most about zombies and how to survive an apocalypse. Unable to land a new gig, Vanessa becomes discouraged, but Mike does everything he can to get her back doing what she loves.
Dr. Ken - "Ken's Apology" (ABC, 8:30PM ET/PT)
When Ken wants to apologize to a patient for missing an important medical detail, Pat advises against it, and the situation gets out of hand. Meanwhile, D.K. shakes things up at Dave's parent/teacher conference.
---
Sitcom Stars on Talk Shows (Week of December 5)
Friday, December 9

Olivia Munn (Perfect Couples) - Watch Olivia on The Late Show with Stephen Colbert at 11:35pm on CBS. She will also be on The Ellen DeGeneres Show, so check your local listings.
Tom Papa (Come to Papa) - Tom is a guest on The Late Show with Stephen Colbert at 11:35pm on CBS.
Kevin Nealon (Man with a Plan/Weeds/Hiller and Diller/Champs) - Kevin appears on LIVE! with Kelly, so check your listings.
Bella Thorne (Shake It Up) - Bella is a guest on a repeat of Last Call with Carson Daly at 1:35am on NBC.
Sarah Michelle Gellar (The Crazy Ones) - Sarah whips up a delicious treat on Home & Family on Hallmark Channel at 10am ET/PT.
Richard Kind (Spin City/Mad About You) - Richard is a guest on New York Live on WNBC in New York at 12:30pm ET.
Jennifer Aniston (Friends) - Jennifer appears on Chelsea on Netflix.
---