Wednesday, September 07, 2005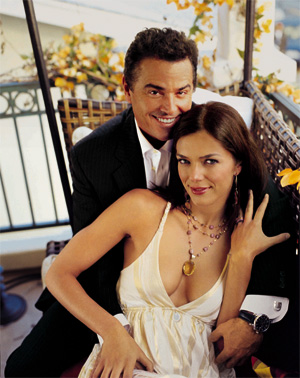 We are still waiting if there will be a Bob Denver tribute event on TV Land. If we don't hear anything by tomorrow, I'd say the answer is no. So keep checking back here often to see if there is an update. As of now, GSN is the only network doing one.
Today we have a lot of little television news to tell you. You might have heard some or all of these, but I feel they are noteworthy. Sitcom stars Todd Bridges (
Diff'rent Strokes
) and Dave Couiler (
Full House
) will be skating this fall on FOX on the reality show Skating with Celebrities. Read the press release
here
. This year's
Emmy Awards
, which are airing on Sunday, September 18 on CBS, will have stars of television sing classic television themes. I guess they watched the
TV Land Awards
and liked that idea. The stars include
Kristen Bell (

Veronica Mars

) singing the theme for

Fame

,
William Shatner (

Boston Legal

) and opera mezzo von Stade will sing the

Star Trek

theme,
Megan Mullally (

Will & Grace

) and Donald Trump (

The Apprentice

) with the

Green Acres

tune
,
and Gary Dourdan (

CSI: Crime Scene Investigation

) and R&B artist Macy Gray will sing the popular

The Jeffersons

theme.


And VH1 will relive two 1970's sitcom stars for two new shows. Christopher Knight (Peter from

The Brady Bunch

) and Danny Bonaduce (

The Partridge Family

) will headline their own shows. Knight will star in

My Fair Brady

, premiering Sunday at 9:30 p.m. Bonaduce will star in

Breaking Bonaduce

premiering Sunday at 10:30 p.m.

In

Brady

, Lovebirds Christopher Knight and Adrianne Curry first met on VH1's The Surreal Life 4. Now, a year later the two are living together and the twice married Chris is having commitment issues. Adrianne, on the other hand, is ready to start a family and gives Chris and ultimatum...either step up or I'm moving out. And in Bonaduce,
America remembers Danny Bonaduce as the cute but spunky Danny Partridge in the 1970's classic series

The Partridge

Family

. Since then however, this former child star has lived a life filled with dichotomy as the hard partying "bad guy" while also trying to remain a loving family man.
Posted by

Pavan -- SitcomsOnline.com
at 7:59 PM


---
New on DVD/Blu-ray (February/March)
02/07 - Sabrina, the Teenage Witch - Sabrina Down Under
02/07 - So Little Time - Volume 1 - School's Cool - Boy Crazy
02/07 - So Little Time - Volume 2 - About a Family - Hangin' Out
02/07 - 227 - The Complete First Season (Mill Creek)
02/07 - Vice Principals - The Complete First Season (Blu-ray)
02/14 - Beavis and Butt-Head - The Complete Collection
02/14 - Grace and Frankie - Season Two
02/28 - Fuller House - The Complete First Season
03/03 - The Dick Van Dyke Show - Now... In Living Color! (Blu-ray)
03/07 - The Jamie Foxx Show - The Complete Second Season
03/07 - Mama's Family - Mama's Favorites
03/07 - That '70s Show - The Complete Series - Flashback Edition (Blu-ray)
03/07 - What I Like About You - The Complete Second Season
03/07 - You Me Her - Season One
03/14 - Newhart - The Final (Eighth) Season
03/14 - Unbrekable Kimmy Schmidt - Season Two
03/21 - Master of None - Season One
More TV DVD Releases / DVD Reviews Archive / SitcomsOnline Digest
---
Sitcoms Airing Tonight
Saturday, March 25
Henry Danger - "Gas or Fail" (Nickelodeon, 8:00PM ET/PT)
When Captain Man finds himself trapped underground, Henry must devise a way to sneak out of his school's standardized testing to save Ray.
Game Shakers - "Llama Llama Spit Spit" (Nickelodeon, 8:30PM ET/PT)
After the Game Shakers get kicked out of Fooders to make room for a guest who has his photo on the wall, Babe becomes determined to get their own photo up using any means necessary.
Nicky, Ricky, Dicky & Dawn - "To Be Invited or Not to Be" (Nickelodeon, 9:00PM ET/PT)
The quads make a new friend, an amazing inventor, but when not all of them get invited back to hang out again, they start to wonder why.
Love Thy Neighbor - "Better Late Than Never" (OWN, 9:00PM ET/PT)
A missed call leaves Danny and his family in a bad place.
Love Thy Neighbor - "Make Up or Make Out" (OWN, 9:30PM ET/PT)
Still upset with his friends, Danny takes the advice of his family.
---
Sitcom Stars on Talk Shows (Week of March 27)
Sunday, March 26

Sanaa Lathan (Family Guy/The Cleveland Show/LateLine) - Catch Sanaa on Watch What Happens: Live at 11pm on Bravo.
Monday, March 27
Chris Pratt (Parks and Recreation) - Watch Chris on a repeat of Jimmy Kimmel Live! at 11:35pm on ABC.
Richard Dreyfuss (Your Family or Mine) - Richard appears on The Tonight Show Starring Jimmy Fallon at 11:34pm on NBC.
Lily Tomlin (Grace and Frankie/Malibu Country) and Jane Fonda (Grace and Frankie) - Lily and Jane are guests on The Late Show with Stephen Colbert at 11:35pm on CBS. They also chat with the ladies of The View on ABC at 11am ET/10am CT-PT.
Craig Ferguson (The Drew Carey Show) - Craig visits Late Night with Seth Meyers at 12:36am on NBC. He will also be on NBC's Today in the 10am hour.
Rachel Dratch (Imaginary Mary) - Rachel is a guest on Late Night with Seth Meyers at 12:36am on NBC.
Pete Holmes (Crashing) - Pete stops by The Late Late Show with James Corden at 12:37am on CBS.
Jenna Elfman (Imaginary Mary/1600 Penn/Accidentally on Purpose/Courting Alex/Dharma & Greg) - Jenna appears on Last Call with Carson Daly at 1:35am on NBC.
Ron Funches (Powerless/Undateable) - Ron is a guest on @midnight on Comedy Central at midnight.
Kaitlin Olson (The Mick/It's Always Sunny in Philadelphia) - Kaitlin drops by Conan at 11pm on TBS.
Wendi McLendon-Covey (The Goldbergs/Rules of Engagement/Reno 911!) - Wendi appears on a repeat of Watch What Happens: Live at 11pm on Bravo.
Lisa Kudrow (Friends/The Comeback) - Lisa is a guest on LIVE! with Kelly, so check your listings.
Mark Consuelos (Alpha House/Hope & Faith) - Mark guest co-hosts LIVE! with Kelly, so check your listings.
Tahj Mowry, Derek Theler and Jean-Luc Bilodeau (Baby Daddy) - Tahj, Derek and Jean-Luc are guests on Harry, so check your local listings.
Tika Sumpter (The Game) - Tika appears on a repeat of The Real, so check your local listings.
Vanessa Bell Calloway (Rhythm & Blues) - Vanessa is a guest on Home & Family on Hallmark Channel at 10am ET/PT.
June Diane Raphael (Grace and Frankie) - June talks about Grace and Frankie on NBC's Today in the 9am hour.
Melissa McCarthy (Mike & Molly/Samantha Who?) and Ben Falcone (Joey) - Melissa and Ben talk TV Land's Nobodies on NBC's Today in the 10am hour.
Brooklyn Decker (Grace and Frankie/Friends with Better Lives) - Brookyln stops by People Now at 8:30am.
Marcia Gay Harden (Trophy Wife) - Marcia opens up about her favorite part of being in the 50 Shades movies on People Now at 8:30am.
\
Tracee Ellis Ross (black-ish/Girlfriends) - Tracee dishes about her Golden Globe win on a repeat of The Wendy Williams Show at 2am on BET or on your local stations.
---